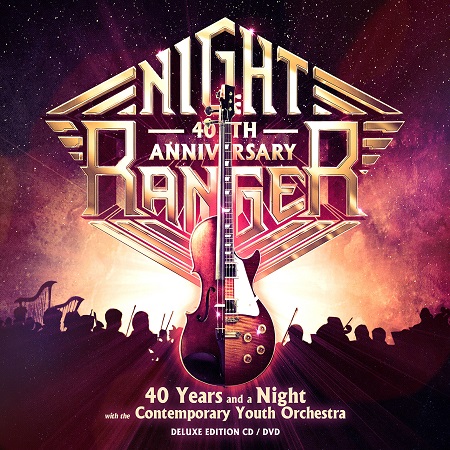 NIGHT RANGER
Titel: 40 YEARS AND A NIGHT WITH THE CONTEMPORARY YOUTH ORCHESTRA
Spieldauer: 71:18 Minuten
VÖ: 20. Oktober 2023
Die legendären, 1981 gegründeten US Rocker NIGHT RANGER präsentieren ihr Livealbum "40 Years And A Night With Contemporary Youth Orchestra", das auf CD, Vinyl, DVD, Blu-ray und digital erhältlich sein wird.
Diese "one-of-a-kind one night only" Performance mit dem Orchester, bestehend aus 80 zwischen 12 und 18 Jahre alten Musikern von über 40 Schulen in ganz Ohio, wurde am 09. November 2022 im Key Bank State Theatre in Cleveland aufgenommen.
Es handelt sich somit nicht nur um eine einmalige Liveshow, sondern auch eine einzigartige Darbietung der größten Hits der Band gemeinsam mit einem kompletten Symphonieorchester und somit einen wahren "once in a lifetime" Moment für alle Beteiligten, der nun für die Nachwelt festgehalten wurde.
Band und Orchester präsentieren Hits und Ohrwürmer aus vierzig Jahren wie `(You Can Still) Rock In America´, `Sing Me Away´, `Call My Name´ und `Sentimental Street´ mit Gute-Laune- und/oder Gänsehaut-Garantie, gekonnt und mit viel Spielfreude.
Der Sound ist einwandfrei und das Publikum gut hörbar und bester Stimmung und meistert auch den "Yeah"-Refrain von `High Road´ problemlos. Ganz stark auch noch der Ausklang mit den beiden mitreißenden Nummern `Don't Tell Me You Love Me´ sowie der Bandhymne `Sister Christian´.
Stimmungsvolle Livescheibe mit vielen großen Tracks in besonderen Orchesterversionen und ansprechenden Arrangements sowie einer Band in Bestform und einem gut aufgelegten Publikum, zu dem auch die begeisterten Eltern der jungen Musiker gehörten.
Michael Gaspar vergibt 8 von 10 Punkten