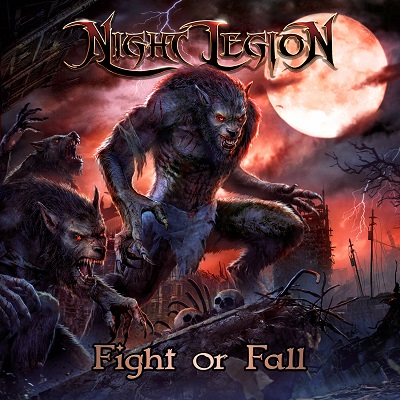 NIGHT LEGION
Titel: FIGHT OR FALL
Spieldauer: 39:09 Minuten
VÖ: 30. Juni 2023
Im kurzen Infotext zu "Fight Or Fall", Studiozweitwerk der australischen Metaller NIGHT LEGION, heißt es so schön: ""Fight Or Fall" ist eine konsequente Rückkehr zu schnellem und druckvollem Heavy Metal mit schrillen Vocals, knackigen Gitarren und Hooks, die dich daran erinnern lassen, wie gutes Songwriting klingen muss. Dies Album ist kein fröhlicher Spaziergang durch einen Wald voller Elfen – es ist das Schlachtfeld, auf dem Metal lebendig ist, und die mitreißenden Vocals beschwören die Geister, die Metal zu der Macht gemacht haben, die er heute ist!"
Diese Worte sind vielleicht ein klein wenig zu dick aufgetragen und doch ist einiges Wahres dran, denn die neun Tracks der Scheibe sind wirklich packender, traditioneller Stahl, der auch aus der Hochzeit des (britischen) Heavy Metal stammen könnte und durchweg Laune macht.
Songs wie der atmosphärische Opener `The Hounds Of Baskerville´, bei dem übrigens als Gast Mike LePond (Symphony X, Death Dealer) den Bass spielt, die grandiose Vorabauskopplung `Soaring Into The Black´ und der mitreißende Titelsong überzeugen auf ganzer Linie und lassen den Hörer die Matte schwingend und Fäuste reckend in die gute alte Zeit zurückreisen.
Auch an den weiteren Stücken gibt es wenig auszusetzen und dem starken Abschlussdoppel aus dem treibend-eingängigen `The Enemy´ und der Single `The Hand Of Death´ gelingt es nochmals, besonderen Glanz zu versprühen.
Unter dem Strich knapp vierzig Minuten sehr gutes, traditionelles, stimmiges und kraftvolles Metal Entertainment vom fünften Kontinent.
Michael Gaspar vergibt 8 von 10 Punkten