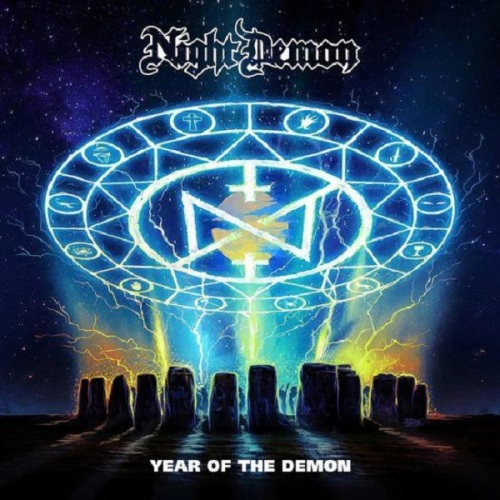 NIGHT DEMON
Titel: YEAR OF THE DEMON
Spieldauer: 38:52 Minuten
VÖ: 25. März 2022
Auch wenn die Ventura Truppe von NIGHT DEMON erst seit 11 Jahren besteht, hat man, oder zumindest ich, den subjektiven Eindruck, als wäre dies schon weitaus länger.
Dies hängt natürlich auch mit der Präsenz von Jarvis Leatherby in der Szene zusammen und auch mit deren Live- und Media Präsenz.
Veröffentlichungstechnisch gibt es neben zwei Langeisen eine riesige Anzahl an Singles. Die letzten, in den Jahren 2020 und 2022 veröffentlichten, sechs Singles werden nun zum Leidwesen der Sammler und zur Freude sonstiger Musikfans als Compilation zusammengefasst und neu heraus gebracht.
Da gibt es die vier neuen, allesamt mehr als hörenswerten Songs 'Empires Fall', 'Kill The Pain', 'Are You Out There' und 'Vysteria', die den typischen, New Wave of British Heavy Metal beeinflussten NIGHT DEMON Stil mit seiner exzellenten Mischung zwischen nötiger Härte und Melodie, wider spiegeln.
Zusätzlich gibt es noch sechs hörenswerte Cover Versionen; von den Scorpions mit  'In Trance' und 'Top Of The Bill' gleich zwei, 'Fast Bikes' von LeGriffe, '100MPH' von Cirith Ungol, 'The Sun Goes Down' von Thin Lizzy und das cool umgesetzte 'Waysted Years' von den Eisernen Jungfrauen.
"Year Of The Demon" ist somit ne schöne Compi für Freunde von NIGHT DEMON's Klängen und bietet die ideale Überbrückung zum wohl hoffentlich bald folgenden neuen Album.
Ludwig Lücker vergibt keine Bewertung