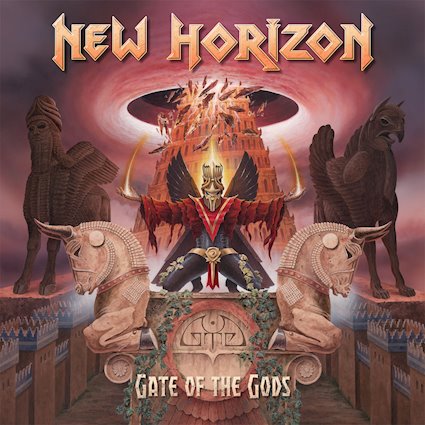 NEW HORIZON
Titel: GATE OF THE GODS
Spieldauer: 49:40 Minuten
VÖ: 11. März 2022
Sänger Erik "Power" Grönwall und sein ehemaliger H.E.A.T-Bandkollege Jona Tee haben mit NEW HORIZON eine Metalband aus der Taufe gehoben, die es ihnen erlaubt ihre eigenen Power Metal Hymnen einem breiten Publikum vorzustellen.
Das Debüt "Gate Of The Gods" bietet einen Mix aus Moderne und klassischem Power und Heavy Metal sowie die Gastmusiker Robban Bäck (Mustasch), Sam Totman (DragonForce), Love Magnusson (Dynazty), Dave Dalone (H.E.A.T), Niko Vuorela (Temple Balls) und Laucha Figueroa.
Die Vorlieben für Helloween, Hammerfall, Manowar und Edguy hört man Songs wie dem fulminanten Kracher `Stronger Than Steel` und dem grandiosen `Event Horizon` mehr als deutlich an. `We Unite` glänzt mit großer Eingängigkeit sowie einer packenden Bridge und großartigem Chorus, der allerdings gewaltig an `What A Feeling` aus "Flashdance" erinnert.
Andere Kompositionen wie das locker-flockige `Call Of The Underground`, welches sich später noch zu einer kraftvollen Breitwand-Attacke steigert, und das mit einem mitreißenden Solo aufwartende `Fearless` gehen eher in die zu erwartende Hardrock/Melodic Metal-Ecke.
Dagegen sorgen Hymnen wie das treibende `Stronger Than Steel` und der Ohrwurm `The End Of All` mit ihren melodischen Leads, eingängigen Refrains und bombastischen Chören eindeutig für feuchte Träume bei vielen Power Metal Freaks und im Großen und Ganzen stellt sich das Riffing erfreulich hartmetallisch dar.
Und das siebeneinhalbminütige Midtempo-Epos aka Titelsong bildet den gelungenen Abschluss und macht "Gate Of The Gods" zu einer unterhaltsamen Angelegenheit und einer starken, eingängigen, allerdings wenig eigenständigen und auch nicht wirklich originellen Scheibe.
Michael Gaspar vergibt 7,5 von 10 Punkten