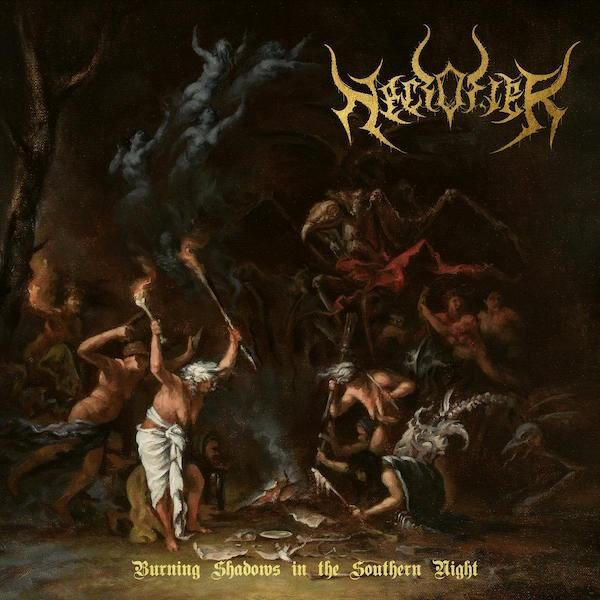 NECROFIER
Titel: BURNING SHADOWS IN THE SOUTHERN LIGHT
Label: SEASON OF MIST UNDERGROUND ACTIVISTS
Spieldauer: 47:11 Minuten
VÖ: 2. Juni 2023
Da sind die US Black Metaller von NECROFIER mit einem neuen Album zurück. Nachdem das Debütalbum Ende 2021 bei mir noch für Aufsehen sorgte bin ich natürlich auf die aktuelle Scheibe gespannt wie ein Flitzebogen. 
'The Fall from Heaven' ist ein knapp dreieinhalbminütiges Intro, das die Scheibe mit Klavier und Frauenstimmen verschwörerisch einleitet. Danach starten die Texaner typisch mit ihrem rasanten und jederzeit in der melodischen Ecke behafteten Black Metal. Einige thrashige Parts ('To the Wolves') sind stellenweise vorhanden wohingegen ganz deutliche Verweise in den Bereich des klassischen Heavy Metals erkennbar sind. Beispiel hierfür ist unter anderem das getragenere und gespenstige 'Destroying Angels'. Auch einige Pagan Absätze sind im Song 'Forbidden Light of the Black Moon' auszumachen. 
Insgesamt gesehen variieren NECROFIER hier viel stärker. Sie scheuen nicht den Einsatz von Frauengesang, Chören und ausgedehnten Gitarrensoli neben den schwarzmetallischen Trademarks ihres Debütalbums. Allerdings gehen diese Sounderweiterungen teilweise auf die Kontur des Gesamteindrucks. Das heißt, dass es NECROFIER nicht schaffen den furiosen Spirit des Erstlings aufrechtzuerhalten und stellenweise doch etwas ideenlos und drucklos erscheinen.
Ich war doch sehr auf den Nachfolger von Prophecies of Eternal Darkness gespannt. Den Erwartungen hält die neue Platte allerdings nicht wirklich stand. Keine schlechte Scheibe aber hier fehlt mir die Griffigkeit und die Kernigkeit des Debüts. Aber hört selbst mal rein.
Ingo Holzhäuser vergibt 7,5 von 10 Punkten