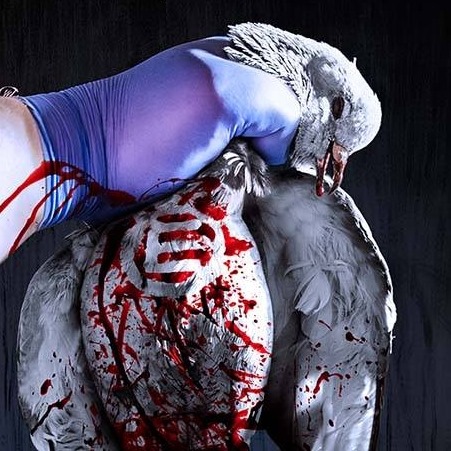 NAPALM DEATH
Titel: THROES OF JOY IN THE JAWS OF DEFEATISM
Spieldauer: 42:26 Minuten
NAPALM DEATH kehren mit Album Nummer 16 zurück. Und dieses mal gibt es bereits im Vorfeld recht hitzige Diskussionen um die Scheibe. War Single Nummer eins 'Backlash Just Because', noch eine in Musik gepresste gewohnt brutale Hasstirade, änderte sich der Eindruck, mit den weiteren im Voraus ausgekoppelten Tracks.
Aber halt, erstmal ganz langsam. Oder eigentlich schnell, denn 'Fuck the Factoid', das als Opener fungiert, 'That Curse of Being in Thrall', 'Contagion' oder das punkige 'Zero Gravitas Chamber' sind Grindcore wie er im Buche steht und das haben NAPALM DEATH schließlich selbst geschrieben. Erst die Songs fünf und sechs  zeigen NAPALM DEATH stark verändert bzw., um weitere Facetten erweitert. 'Joie De Ne Pas Vivre' ist eine irgendwie seltsam lärmende, beunruhigende Mischung aus Noisecore und Punk. 'Invigorating Clutch' hingegen, ist stark vom Industrial beeinflusst. Langsam, simpel und zäh breitet sich die kalte hörbare Wut über den Hörer aus auch ohne in Raserei zu verfallen.
Weiter geht es mit den vielen neuen Gesichtern von NAPALM DEATH. Insbesondere 'Amoral', mit seiner ungewohnten Melodik, sorgte bereits zuvor für die besagte Auseinandersetzung zwischen den Lagern. Getragen von einem Killing Joke artigen Haupriff, mit seltsamen klingelnden Untertönen erscheint der Song gleichzeitig roh und beinahe emotional und nein, soft ist auch dieser Track nicht. Ich persönlich finde es großartig. Zumal der folgende Titeltrack eventuell abgeschreckte Hörer sofort wieder mit Geschwindigkeit und Grind- Hardcore Sound einfangen kann. Auch 'Acting In Gouged Faith' hämmert punkig durch, wird zwischendurch von einem ultraspeed-Schlagwerk getrieben, um dann in Dissonanz zu aufzugehen, bevor sich der Song wieder zurück in den Ursprungszustand dreht.  Der finale Track 'A Bellyful of Salt and Spleen' ist auch einer der kontrovers aufgenommenen Tracks. Eigentlich ist es minimalistischer Noise, der von Keyboards (!) unterstützt in eine Art Choral verfällt und das Album ruhig ausklingen lässt. Warum man ausgerechnet das als Single auskoppelt? Keine Ahnung.
Nach  dem Hören der zwölf Songs ist man gerädert, weiß anfangs vielleicht nicht was man mit den unerwarteten Veränderungen anfangen soll. Aber ganz ehrlich, wie oft soll eine Band das immer gleiche Album denn schreiben? "Throes of Joy in the Jaws of Defeatism" bietet Songs die abweichen aber exrem, brutal donnernd, super aggressiv, in Teilen dissonant und kurzfrisitg auch für weniger Grindcoreaffine Menschen hörbar sind. Kurz, die Platte klingt nach "NAPALM DEATH Plus".
Sven Bernhardt vergibt 7,5 von 10 Punkten