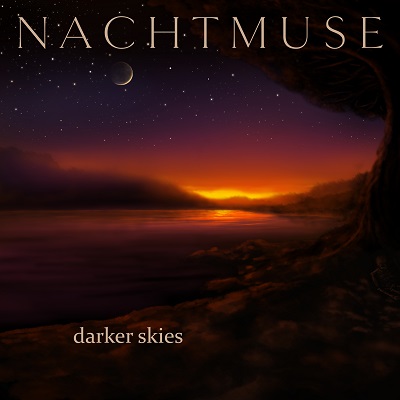 NACHTMUSE
Titel: DARKER SKIES (EP)
Spieldauer: 23:28 Minuten
VÖ: 07. April 2023
Das Symphonic Metal Outfit NACHTMUSE ist ein Projekt des kanadischen Musikers Geoff Hodsman, der eigentlich in der lokalen Death Metal Szene Toronto´s und Bands wie Gravitational Distortion, Envenomation, Human Compost, Vesication und Brain Spasm  beheimatet ist.
Dem 2022er Debütalbum "Solemn Songs Of Nightsky & Sea" lässt dieser nun gemeinsam mit den beiden Vokalisten Maude Theberge (Sanguine Glacialis, Growler`s Choir) und Jeff Mott (Hands Of Despair, Growler´s Choir) sowie Nathan Gross (Age Of Athena, Blood Of Indigo, Haven Dream), der bei den orchestralen Elementen assistierte, die fünf Tracks starke EP "Darker Skies" folgen.
Der Sound der fünf Stücke ist modern, abwechslungsreich und rifflastig, präsentiert die dunklere Seite des symphonischen Metal Subgenres und stellt donnernde Instrumentierungen neben Orchestrierungen und ätherische musikalische Elemente.
Die erste Single `The Warning´ beispielsweise kombiniert treibende, heavy Gitarren mit Streichern und opernhaften Leadvocals, bevor beim folgenden `The Ashen´ dazu noch Growls vertreten sind, welche sich mit mehrstimmigen, klaren Gesängen, symphonischen Klängen und einem guten Chorus abwechseln.
Die meisten Lyrics thematisieren ernste Themen wie Generationentraumata, Drogenmissbrauch und toxische Beziehungen, während `The Sublime´ Selbständigkeit und die kunstvolle Manifestierung der göttlichen Schöpfung thematisiert, was sich auch musikalisch in einer erhebenden, teilweise theatralischen Komposition mit einem "Ghost meets Nightwish"-Refrain und einem bombastischen Finale niederschlägt.
Den Abschluss einer interessanten, kurzweiligen, zeitgemäßen EP bildet mit `Candy Tree´ ein Coversong von den englischen Indie Rockern All About Eve und damit ein elektronisch verspieltes Stück, gleichzeitig der eingängigste, ruhigste und am wenigsten metallische Song der Scheibe.
Michael Gaspar vergibt 7 von 10 Punkten