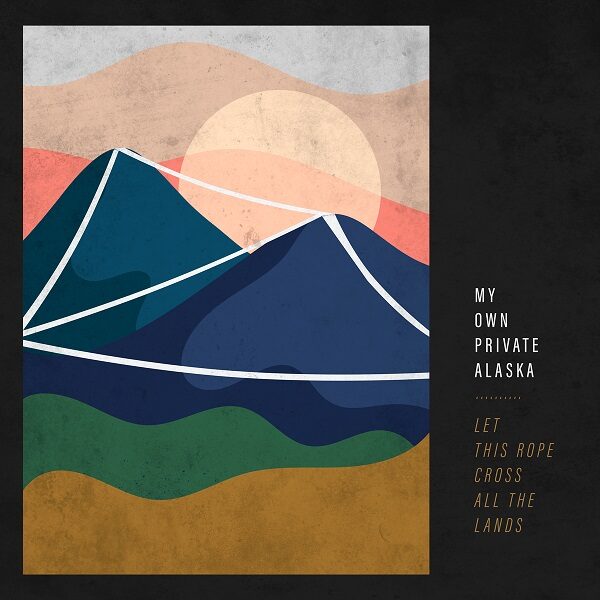 MY OWN PRIVATE ALASKA
Titel: Let This Rope Cross All The Lands (EP)
Spieldauer: 22:38 Minuten
Nach zehnjähriger Schaffenspause kehrten die selbsternannten Pianocoreler MY OWN PRIVATE ALASKA aus Toulouse 2020 auf die metallische Bildfläche zurück. Dem letztjährigen Re-Release ihres Debüts "Amen!" folgt mit der neuen EP "Let This Rope Cross All The Lands" nun ein weiteres Lebenszeichen des unkonventionellen Quartetts. Schon ohne einen Ton gehört zu haben, versetzt mich das ungewöhnliche Line-Up aus Gesang, Piano Keyboard, Bass Keyboard und Schlagzeug in Erstaunen. In dieser Besetzung erzeugt die Band, die ihre Auftritte stets sitzend bestreitet, schon seit 2007 kleine, mal zerbrechlichen, mal brachialen Avantgarde-Post-Rock-Meisterwerke.
Die EP beinhaltet neben Raritäten und B-Seiten auch einen komplett neuen Song namens 'Your Shelter'. Leidenschaftliche Pianopassagen und präzises Drumming treffen auf emotionale Vocals, die mich abwechselnd an System of a down und Placebo denken lassen. Der Opener ist somit auf definitiv der eingängigste und modernste der fünf Songs. Eine schwer zu verdauende Mischung aus  klassischen, ruhigen Klavierklängen, die sich zu irrwitzigen Läufen steigern, und dem melodramatischem Gesang, der immer wieder zu kathartischen Schreien und purer Raserei ausufert, bestimmt die vier weiteren Songs. Aus dieser spannenden Mixtur entstehen packende, intensive Stücke zwischen Melancholie und Wahnsinn, Schönheit und Verzweiflung.
Das Mini-Album bietet eine gute Gelegenheit, den extravaganten Noise Rock der Franzosen kennenzulernen. Für Fans und Sammler dürften jedoch allenfalls die in zwei Farben erhältlichen Vinyl-Editionen mit ihren drei Live-Bonus-Tracks von Interesse sein.
Michael Gaspar vergibt keine Bewertung