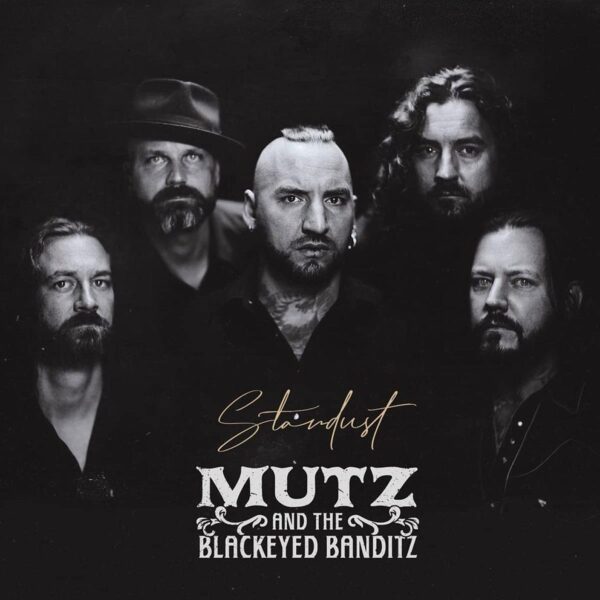 MUTZ AND THE BLACKEYED BANDITZ
Titel: STARDUST
Label: MTBB/CARGO RECORDS
Spieldauer: ca. 40 Minuten
VÖ: 19. August 2022
Moritz Hempel aka "Mutz" kennt man vor allem als Frontmann der Thrash Metaller DRONE und auch als Solokünstler. Nun  aber veröffentlichen er und seine Band MUTZ AND THE BLACKEYED BANDITZ das gemeinsame Debüt "Stardust" und begeben sich dabei auf Classic, Southern und Country Rock sowie Singer/Songwriter Pfade.
Mit dem recht harten und beinahe hymnischen Opener `Hammer Of The Gods´ geht es munter und mit einem echten Brett los, bevor mich das folgende `All Along´ an eine langsamen, relaxten und äußerst melodischen Bad Religion Stil denken lässt.
Das grandiose `Dust & Bone` verbindet einen gewissen Johnny Cash Vibe in den Strophen mit einem ungemein melodisch-eingängigen Chorus und auch die übrigen Kompositionen bis etwa zur Mitte des Albums können sich hören lassen.
Man denkt an Tom Petty und Lynyrd Skynyrd und, wenn die teilweise üppigen Keyboards einsetzen, fast zwangsläufig an Deep Purple. Doch im Anschluss verflacht das Ganze zunehmend, denn es folgen mehrere eher ruhige, akustische, bluesig-balladeske und leider auch ein wenig belanglose und austauschbare Songs, denen es an Atmosphäre und Außergewöhnlichkeit mangelt.
Mit dem flotten, packenden Track `Cougar On A Leash´ (welch ein Bild) und der abschließenden, emotionalen Gänsehaut-Ballade kriegt die Band zum Ende hin jedoch wieder die Kurve und kann den Hörer erneut begeistern.
Mit Metal und der sonstigen Haupttätigkeit des Protagonisten hat das alles natürlich nichts zu tun, aber das hat ja auch niemand behauptet. Wer hier also nicht mit den falschen Erwartungen herangeht, wird mit einem in weiten Teilen gutklassigen, wenn auch nicht Berge oder in Euphorie versetzenden Silberling belohnt.
Michael Gaspar vergibt 6,5 von 10 Punkten