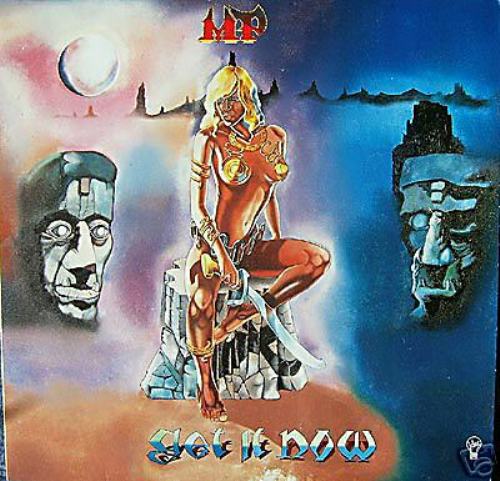 Label: DYING VICTIMS PRODUCTION
Auch das Zweitwerk der Wittener Band MP "Get It Now", welche es in den achtziger Jahren zumindest zu lokaler Berühmtheit schaffte, wird nun von Dying Victims Productions erneut aufgelegt und mit fünf zusätzlichen Tracks aufgepumpt in die Verkaufsregale gewuchtet.
MP zockten eine überaus typische Form des Teutonen Metals und klangen musikalisch wie eine Mischung aus Priest und Accept. Das taten allerdings viele andere Bands damals auch, weshalb es MP auch nie zu größeren Ehren schafften. Man muss den Jungs allerdings zugestehen, dass 'Get It Now' schon besser gelungen war, als der ebenfalls erst kürzlich wiederveröffentlichte Debüt Dreher "Bursting Out (The Beast Became Human)".
Tracks wie das Priest mäßige 'Claws From The Might', das stampfende 'Don't Ask About His Name (Lohengrin)', das an Accept gemahnende 'Feel The Heart', die schnellen 'Hawk Of May' und 'Not For The Innocent' sowie das Priest'sche 'Lion In A Cage' machen live vor einer entsprechenden Meute und einem Bier in der Hand und mehreren im Magen sicher eine Menge Spass.
Allerdings zeigen die Tracks auch die kompositorische Limitation der Truppe und warum sie nie wirklich über den Status oben erwähnter lokaler Berühmtheit hinaus kamen. Dennoch ist "Get It Now" ein Zeitdokument und erfreut sicher auch durch diesen Aspekt so einige an der damaligen Zeit Interessierten.
Ludwig Lücker vergibt 7 von 10 Punkten