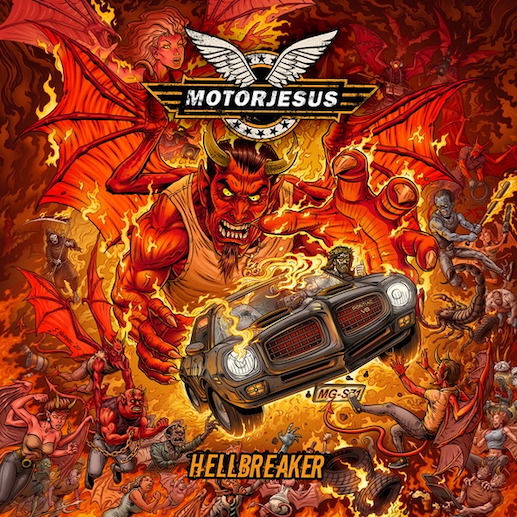 MOTORJESUS
Titel: HELLBREAKER
Spieldauer: 44:32 Minuten
Drei Dinge haben sich MOTORJESUS für ihr neues, mittlerweile bereits siebtes Studioalbum vorgenommen. Nämlich "ein eher kompaktes, schnelles, explosives Album zu produzieren" mit zehn ebenfalls eher kurzen Songs analog zum althergebrachten Vinyl-Prinzip von je fünf Stücken auf der A- und B-Seite sowie ohne die übliche Ballade. In der Schnittmenge aus schmutzigem Hard Rock und traditionellem Heavy Metal feuern die fünf Rheinländer dann auch tatsächlich zehn hochklassige Tracks voller traditionellem Riffing, packender Soli und Klasse Vocals ab. Dabei lässt mich Chris "Howling" Birx' Stimme mehr als einmal an die gesanglichen Heldentaten eines gewissen John Bush denken. Dies ist beispielsweise beim traditionell-metallischen 'Battlezone', beim Titelsong und beim kraftstrotzenden 'Back To The Bullet' der Fall.
Der hochklassige, heftig rockende Opener 'Drive Through Fire' ist inklusive anderthalbminütigem Instrumental-Intro gleichzeitig auch der längste Song der Platte. Während das hyperschnelle 'Car Wars' eine gewisse Punk-Schlagseite beinhaltet, meine ich an anderen Stellen gar leichte Volbeat-Vibes zu verspüren. Dagegen kennzeichnen dreckige Stoner-Rock-Einflüsse das hymnische 'Firebreather' und das groovige 'Black Hole Overload'. Dass den Mönchengladbacher neben Autos auch das Thema Zombies und andere Untote einen Riesen-Spaß zu machen scheint, machen die Lyrics des fast schon melodischen und mit einem knackigen Refrain versehene 'Beyond The Grave' und das räudig-krachende 'Dead Rising' deutlich. Mein persönlicher Favorit ist jedoch das mächtige 'Lawgiver', welches Jugg Dredd huldigt und mit geilem Solo und gewaltig zündendem Chorus glänzt.
MOTORJESUS bringen also anno 2021 die zweifellos vorhandenen PS definitiv auf die Straße. Bei beinahe allen Songs will man am liebsten sofort mitgrölen und die Fäuste recken. Man meint förmlich Staub und Dreck zu schmecken und kann vor lauter Rauch und Abgaswolken kaum noch etwas sehen. Öl, Schweiß und Benzin liegen in der Luft und man beginnt, sich nach einem hochprozentigen Kaltgetränk zu sehnen!
Michael Gaspar vergibt 8,5 von 10 Punkten