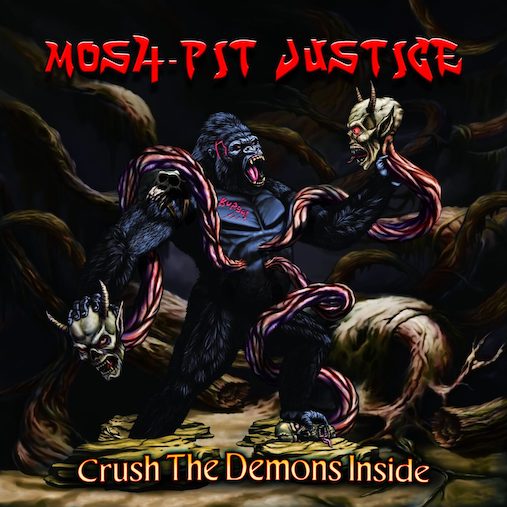 MOSH-PIT JUSTICE - CRUSH THE DEMONS INSIDE
Titel: CRUSH THE DEMONS INSIDE
Spieldauer: 42 Minuten
VÖ: 18.11.2022
Schon ein Blick auf das wilde Cover reicht, um festzustellen, dass der bulgarische Gorilla wieder wütet und genauso wüten MOSH-PIT JUSTICE auf ihrem neuen Album "Crush The Demons Inside". Damit machen die Bulgaren nicht nur das halbe Dutzend voll, sondern feiern gleichzeitig ihr zehntes Bandjubiläum.
Wütender denn je schreit Sänger Peich seine Anklagen gegen Politik und Gesellschaft heraus und klingt dabei in Sachen Phrasierung einmal mehr stark wie eine Mischung aus Russ Anderson von Forbidden und Blitz Ellsworth von OverKill. Mariyans Bass pumpt wieder kräftig und muss sich ganz schön anstrengen, um mit Staffas pfeilschnellen Riffs und Doublebass-Attacken mitzuhalten.
Ja, ihr lest richtig. Der Typ ist Gitarrist und Drummer in Personalunion, was live wohl gewisse Schwierigkeiten verursachen dürfte. Keine Ahnung, ob man dann mit einem Livedrummer oder -gitarristen arbeitet, im Studio funktioniert das Ganze jedenfalls nun zum wiederholten Mal ganz hervorragend. Alle acht Tracks sind zwischen fünf und sechs Minuten lang und gehen nach vorn wie die Sau.
MOSH-PIT JUSTICE machen hier wieder mal keine Gefangenen und metzeln mit Songs wie 'The Endless Night', 'Sentenced To Live' oder 'Expect More Dead' gnadenlos alles nieder. Dabei wird aber stets auf eine saubere Instrumentierung und schlüssige Songstrukturen geachtet. In den Achtzigern sprach man von "Thrash with class" und das passt auch hier.
Also holt euch das Teil zum fairen Kurs bei den Schweizer Vinyl-Experten von Doc Gator Records: Doc Gator Records (docgatorshop.com).
Alex Fähnrich vergibt 8,5 von 10 Punkten