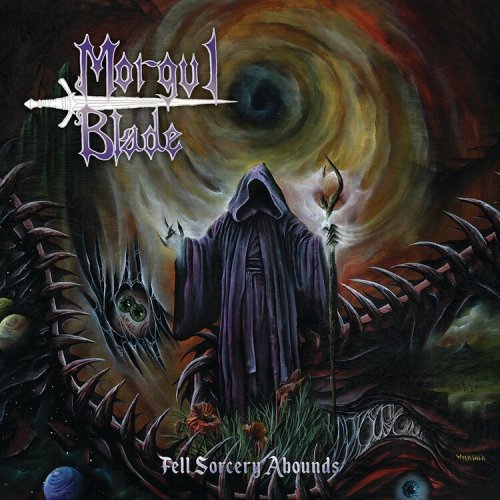 MORGUL BLADE
Titel: FELL SORCERY ABOUNDS
Spieldauer: 38:15 Minuten
Da haben sich No Remorse in Form der Truppe aus Philadelphia einen neuen Stern am Firmament des Traditional/Epic Metals ins Haus geholt.
Das Quartett namens MORGUL BLADE – die Klinge der Nazgul aus Mittelerde, wie Fans des Genres sicherlich richtig vermutet haben – bezieht seine thematischen Bezüge aus den Bereichen der Fantasy und hier im speziellen logischerweise aus dem Herr der Ringe Epos.
Und wie sollte man dies treffender umsetzen als mit einer vollen Breitseite aus Traditional beziehungsweise Epic Metal.
Und dies beherrschen MORGUL BLADE. Bei Tracks wie dem stampfenden Opener 'He Who Sits Upon the Black Throne of Angmar / The Morgul Blade'  – versucht den Song mal nach drei Bier live zu fordern -, dem nach fetten Einstieg nach vorn marschierenden 'A Last Waltz Of Gevaudan' mit seiner melodischen Vocalline, dem rhythmischen, teils folkig/heroischen 'The Five Will Ride At Dawn', dem hymnischen Epos 'The Beacons Must Be Lit!' und dem epischen Rauswerfer 'Fell Socery Abounds' jedenfalls ist die Faust zum "raisen" in der Luft .
Der von der Band wahlweise und der Dramatik angepasst wechselnde Gesang in Form von tiefen klaren Vocals und extremeren "Black Metal" Vocals hebt hierbei MORGUL BLADE noch von anderen Bands ab und hat ein gewisses Alleinstellungsmerkmal, auch wenn dies sicher nicht jedem Hörer gefallen wird.
Von mir gibt es hier eine klare Kaufempfehlung für Epic Metal Fans.
Ludwig Lücker vergibt 9 von 10 Punkten