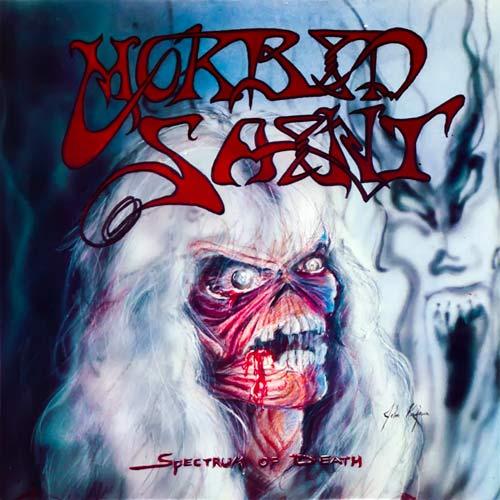 MORBID SAINT
Titel: SPECTRUM OF DEATH
Spieldauer: 32:00 Minuten
Mit MORBID SAINT gibt es einen weiteren Re-Release des in diesem Bereich momentan recht rührigen High Roller Labels. Im Original wurde "Spectrum Of Death" im Jahre 1990 von Avanzada Metalica Records heraus gebracht und ging ziemlich unter, was das Debüt Werk der Wisconsin Posse durchaus interessant machen könnte für die musikalischen Trüffelschweine dieser Welt.
Der Fünfer setzt auf fetten, brutalen Thrash mit ner leichten Prise Death/Thrash und ballert hier volles Pfund ihre acht Tracks durch die Boxen. Die Jungs machen hierbei keine Gefangenen und riskieren mit Songs wie dem fetten Thrasher 'Lock Up Your Children', dem nach fast progressiven Einstieg sich vom Speedster in einen fetten Stampfer wandelnden 'Burned At The Stake', dem fett ballernden 'Crying For Death' und dem zwischen Speed und Mid Tempo wechselnden 'Scars' die Gesundheit der Nackenmuskulatur der mitgehenden Zuhörer.
Kritik? Durchaus auch, denn musikalisch wären da die relativ eindimensionalen Vocals zu nennen und veröffentlichungstechnisch die Tatsache, dass High Roller wieder einmal auf sicherlich vorhandene Bonustracks verzichten.
Wer das MORBID SAINT Debüt sein eigen nennt, braucht hier nur als absoluter Vinyl Junkie über einen Neuerwerb zu grübeln, für Nichtbesitzer gibt es ne ordentliche Thrash Scheibe zu entdecken.
Ludwig Lücker vergibt 7 von 10 Punkten