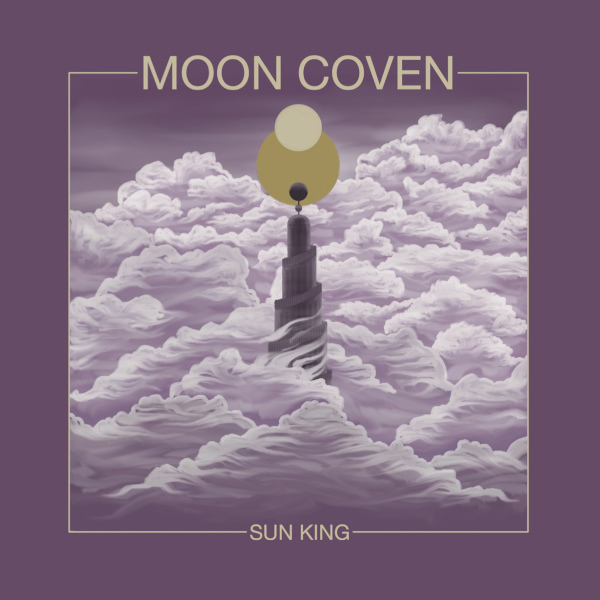 MOON COVEN
Titel: SUN KING
Spieldauer: 46:09 Minuten
VÖ: 25. August 2023
Auch auf ihrem dritten Album "Sun King" bieten die Schweden von MOON COVEN schweren, doomig-stonernden Psychedelic Rock, der an Bands wie Uncle Acid & The Deadbeats oder Acid King erinnert und damit zwangsläufig auch immer etwas im Sound der alten Black Sabbath zu Ozzy-Zeiten wurzelt.
Anders als die zuletzt doch etwas schwerverdaulichen Acid King gehen MOON COVEN allerdings weitaus songdienlicher und nicht ganz so abgedreht zu Werke. So richtig hängenbleibende "Hits" wollen sich auf dem Album allerdings auch nach mehrmaligem Anhören nicht wirklich herauskristallisieren.
Ähnlich wie Uncle Acid & The Deadbeats behalten die vier Schweden bei ihren Stücken meist einen einheitlichen Midtempo-Groove bei, der höchstens gegen Ende der Songs durch einzelne psychedelische bis hypnotische Breaks aufgelockert wird. Auch der helle Gesang von David Regn Leban erinnert in seiner "Entrücktheit" an Uncle Acid.
Insgesamt klingt "Sun King" ziemlich homogen und enthält auch keinerlei Ausfälle. Anspieltipps sind der Titelsong 'Sun King' , 'Below The Black Grow' und 'Gulded Apple', die jeweils durch ihre melodiösen Solopassagen leicht herausragen, sowie die verhältnismäßig "heftig" groovenden 'Seeing Stone' und 'The Lost Color'.
Das letzte "gewisse Etwas", das MOON COVEN so richtig einzigartig macht und von vergleichbaren Bands des Genres abhebt, fehlt mir noch. Trotzdem bietet "Sun King" einen formidablen Soundtrack zum Genuß der ein oder anderen Sportzigarette.
Joe Nollek vergibt 7 von 10 Punkten