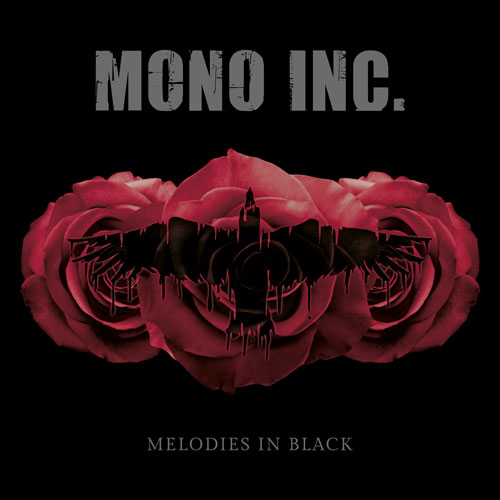 MONO INC.
Titel: MELODIES IN BLACK
Spieldauer: 145:10 Minuten
"Melodies In Black" heißt die Balladen-Compilation der dunkel Rock, Goth-Metaller MONO INC., die hier auf zwei CDs wirklich groß auffahren. Insgesamt 34 Songs, quer durch die Karriere der Band schlagen hier zu Buche. Dabei ist "Melodies In Black" kein reines "best-of" Album geworden. Sondern es gibt sechs Songs, die für die "Black Versions" völlig neu aufgenommen und arrangiert wurden. Darunter Hits wie 'Life Hates You' und 'Just Because I Love You'. Andere Klassiker wurden neu gemastert. Und als Extra für alle treuen Fans ist mit der bitter-süßen Klavierballade 'Scared' ein bisher unveröffentlichter Song auf "Melodies In Black" vorhanden.
Interessant sind für alle Anhänger vor allem die alten Songs, die in einem völlig neuen Kleid daherkommen. In den Black oder Piano-Versionen erscheinen: 'Life Hates You', 'Just Because I Love You', 'Risk It All', 'An klaren Tagen', 'The Best Of You' und 'Pain Machine'. Durchaus gelungene Versionen, die oft mehr Tiefe aufweisen als die Originale. Die einzelnen Songs präsentieren sich mal episch-hymnisch und orchestral, dann wieder wehmütig, oder einfach nur bis aufs Klavier reduziert. Aber auch 'The Tide" mit seiner Seemannsatmosphäre erscheint nicht unpassend.
Viel Piano und ein deutlich vernehmbarer Bass dominieren insgesamt das Programm. Dazu kommen die gesanglichen Gäste: Lisa Middelhauve (Xandria) in 'Teach Me To Love', Joachim Witt bei 'Kein Weg Zu Weit' das hier in der Unplugged-Version zu hören ist und Eric Fish, der unverkennbar in 'A Vagabond's Life' mitsingt. Machen wir es kurz:  "Melodies In Black" ist ein neues schwarzes Album für kalte Winterabende in dunkel-romantischer Stimmung, auch wenn die allermeisten Tracks bereits bekannt sind.
Tracklist:
CD1
01 Life Hate You (Black Version)
02 In The End
03 Time To Go
04 A Love That Never Dies
05 In My Darkest Hours
06 Just Because I Love You (Black Version)
07 My Songs Wear Black
08 Risk It All (Symphonic Version)
09 When All My Cards Are Played
10 The Tide
11 Nimmermehr
12 Teach Me To Love
12 Warriors
14 Potter´s Field
15 Kein Weg zu weit (Feat. Joachim Witt) (Unplugged)
16 A Vagabond´s Life (Feat. Eric Fish / Subway To Sally)
17 Scared (bisher unveröffentlicht)
CD2
01 Nemesis
02 Trail Of Thorns
03 Unconditionally
04 Alles was bleibt
05 The Heart Of The Raven
06 An klaren Tagen (Black Version)
07 If I Fail
08 Ghost Town Gates
09 A Better Way To Die
10 Twice In Life
11 118
12 The Best Of You (Piano Version)
13 Superman
14 When Love´s Gone
15 Never Say Die
16 Pain Machine (Piano Version)
17 Study Butte
Sven Bernhardt vergibt keine Bewertung