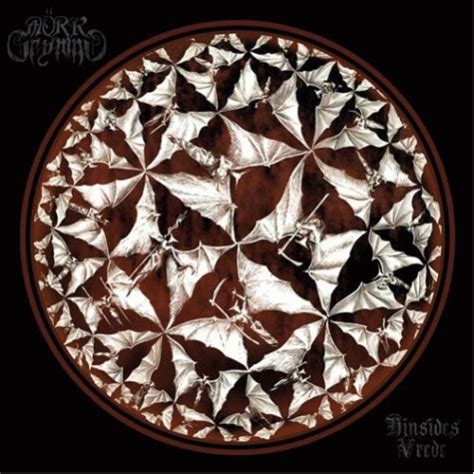 MÖRK GRYNING
Titel: HINSIDES VREDE
Spieldauer: 35:20 Minuten
Das letzte, selbstbetitelte Album von MÖRK GRYNING liegt schon 15 Jahre zurück. Somit kann man im Fall von "Hinsides Vrede" durchaus von einem Comeback Album sprechen. Die Schweden waren zwischen 2005 und 2016 nicht aktiv.
Auch wenn MÖRK GRYNING immer wieder an ihrem Debüt "Tusen år har gått" gemessen werden, legen sie mit "Hinsides Vrede" ein wirklich gutklassiges Album vor.
MÖRK GRYNING spielen teilweise rasenden, schwedischen und melodischen Black Metal. Die Ausrichtung der Band bietet beißende Leads und viele Melodiebögen, die sich bei fast allen Songs in dein Hirn fräsen. Dennoch gehen genug Parts brutal nach vorne weg, womit der (true) Black Metaller vor einem zu geringen Härtegrad keine Angst haben muß.
Nach einem kurzen Intro kommt mit 'Fältherren' gleich das erste Highlight der Scheibe. Ein schwarzmetallischer Melododiebolzen, und auch das nachfolgende 'Infernal' geht in eine vergleichbare Richtung, zeichnet sich aber durch einen verspielteren Mittelpart aus.
Heavy Metal Soli scheinen offenbar momentan gerade hip und schick zu sein, wie das schwedische Black und Death Metal Umfeld (u.a. NECROPHOBIC oder WORMWOOD) zeigt.
'A glimpse in the Sky' wandelt gefühlt schon fast auf neueren ENSLAVED Pfaden. Der quasi Titeltrack 'Hinsides' entpuppt sich als reiner stimmiger Akustiktrack und teilt das Album.
'Black Spirit' ist der exotischste Track, gespickt mit einer großen Melodie und orientalisch anmutenden Frauen Vocals. Für mich stellt er das Highlight des Albums dar.
Die Klavierminiatur 'On the Elysian Fields' schließt dieses starke MÖRK GRYNING Album ab. Ein Album, das zwar kurz aber zugleich auch kurzweilig ist. Welcome back!
Ingo Holzhäuser vergibt 8 von 10 Punkten