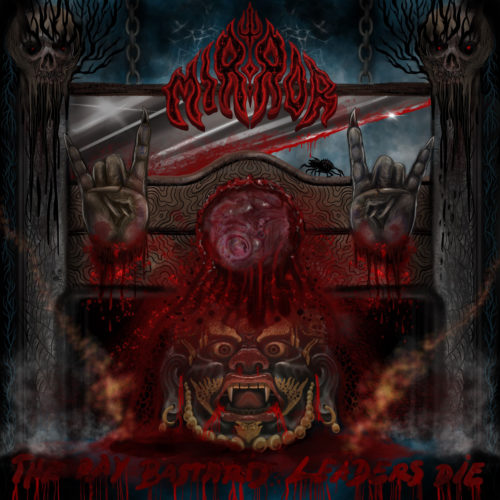 MIRROR
Titel: THE DAY BASTARD LEADERS DIE
Spieldauer: 43:51 Minuten
VÖ: 22. April 2022
MIRROR ist eigentlich eine multi-nationale Truppe, die um beziehungsweise von dem griechischen Gitarristen Tasos Danazoglou im Jahr 2015 gegründet worden ist.
Dies ändert allerdings gar nichts an der Tatsache, dass MIRROR sooo dermaßen nach der New Wave of British Heavy Metal klingen, als wären sie 1979 in Newcastle gegründet worden.
Und so klingt es auf der gut produzierten Scheibe nach schönen, melodischen, traditionellen Heavy Metal, der von den relativ hohen Vocals von Jimmy Mavrommatis veredelt wird.
Besonders gut gefallen mir der nach einem typischen Maiden Einstieg im Mid Tempo stampfende Track 'Infernal Deceiver' mit seinem hymnischen Refrain, das stampfende 'Souls Of Meggido', das hymnische, pumpende 'All Streets Are Evil', das epische 'Stand Fight Victory' und das schnelle 'Sleepy Eyes Of Death'.
Lediglich mit 'Demon Candles' kann ich mich überhaupt nicht anfreunden.
Anyway, "The Day Bastard Leaders Die" ist ne gelungene Scheibe geworden, bei deren Titel man aktuelle Bezüge eventuell…….
Ludwig Lücker vergibt 8,5 von 10 Punkten