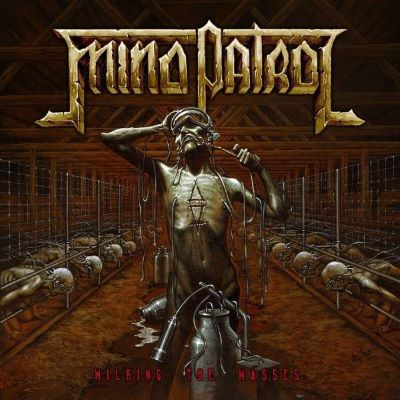 MIND PATROL
Titel: MILKING THE MASSES
Spieldauer: 42:24 Minuten
VÖ: 18.02.2022
Die Schweizer MIND PATROL können mittlerweile auch schon auf 10 Jahre Bandaktivität zurückblicken. Neben dem selbst produzierten Debütalbum "Against All Predictions" kann man auch auf einige Support- sowie Festival-Auftritte zurückblicken. Die anhaltende Pandemie hat der Band sicherlich einige Striche durch die Rechnung gemacht, was sich bei der Entwicklung der Band aber nicht negativ ausgewirkt hat, wie der weitere Verlauf zeigt.
Mit ihrem Zweitwerk "Milking The Masses" möchte man die Metal-Gemeinde noch mal ordentlich durchschütteln und mit flott in die Birne gehenden Thrash Metal ein fettes Statement setzen. Dabei darf man sich von dem als Einschlaflied aufgemachten Intro nicht täuschen lassen, denn danach geht gehörig die Post. Fette und sauber gespielte, melodische Riffs pumpen sich brachial aus den Boxen und fräsen sich durch die Gehörgänge. Mit abwechslungsreichen Gesangslinien, bei dem auch der kleine Death-Sidestep nicht fehlen darf, gewinnt man Punkte bei der Profilbildung und zeigt auch beim Gesang abwechslungsreiche Klasse. Die bei aller Härte und Tempo dargebotenen Songs bieten dennoch die nötige Eingängigkeit, die einen leichten Zugang zum Material ermöglichen.
Soweit C19 für eine unfreiwillig längere Entwicklungszeit beim Album geführt hat, kann man der Band ganz klar attestieren, dass sie diese Zeit gut zu nutzen wussten. Das Songmaterial ist stimmig und derart rund, dass das ganze Album ohne fiese Ausreißer auf gleichbleibendem Niveau zu überzeugen und zu gefallen weiß. Es reiht sich ein Nackenbrecher an den nächsten und mit "Milking The Masses" im Köcher werden sie jede Halle und jedes Festival zum moshen bringen.
Robert vergibt 8 von 10 Punkten