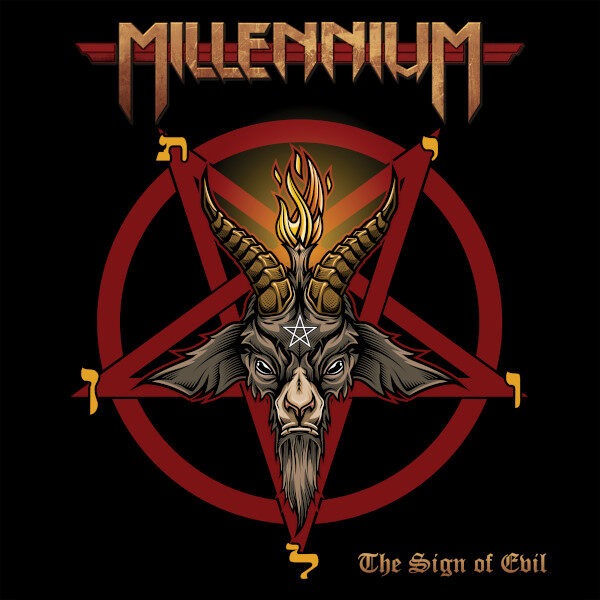 MILLENNIUM
Titel: THE SIGN OF EVIL
Label: NO REMORSE RECORDS
Spieldauer: 49:20 Minuten
VÖ: 19. Mai 2023
Die Engländer MILLENNIUM hatten 1984 ein starkes selbstbetiteltes Debüt – ganz musikalischen Urstil und Geiste der NWoBHM – rausgebracht und sich nach einigen weiteren starken Demo-Veröffentlichungen Ende der 80er aufgelöst. 2015 wurde die Band von Sänger und einzig verbliebenem Originalmitglied Mark Duffy reformiert, der mit "The Sign Of Evil" jetzt immerhin schon das dritte Album in der Neuphase von MILLENNIUM veröffentlicht.
Von der ursprünglichen NWoBHM-Kauzigkeit war auf den beiden Vorgängern "Awakening" und "A New World" nicht mehr viel zu hören. Von Produktion, Songwriting und Härtegrad her konnte man die Alben eher im Bereich von Bands wie Iron Savior oder Primal Fear einordnen.
Prinzipiell weichen MILLENNIUM auch auf "The Sign Of Evil" nicht vom neuen Kurs ab – allerdings kommen bei fast allen Songs wieder verstärkt "typisch britische" Einflüsse zum Vorschein, nämlich vor allem die von Iron Maiden und Judas Priest der mittleren 80er bis frühen 90er.
So einen coolen Uptempo-Hit wie 'Hell Is My Home' (mit 2-Minutes-Gedächtnis-Riff) haben Maiden schon seit über zwei Jahrzehnten nicht mehr geschrieben. Der starke Titelsong 'The Sign Of Evil' erinnert mit seinen melodischen Leads ebenso an Maiden zur Seventh-Son-Phase wie das Galopp-Riffing von 'Fall From Grace' an die Powerslave-Phase.
Songs wie 'Virus', 'No Redemption' und das geile 'Nightmares' wiederum wecken mit ihrem treibenden Riffing nostalgische Erinnerungen an alte Judas Priest. Zu guter Letzt kommt mit dem starken, sowohl klaren wie auch rockigen Gesang von Mark Duffy bei vielen Songs permanent ein gewisses W.A.S.P.-Feeling auf.
So. Klingt jetzt alles nicht so originell (isses im Grunde ja auch nicht). Allerdings klingt "The Sign Of Evil" trotz hörbarer Einflüsse nie identitätslos, abgeschmackt oder zusammengeklaut. Persönlich machen mir MILLENNIUM mit ihren spannenden Songs tatsächlich mehr Spaß als die letzten Alben aller oben genannten Bands zusammen.
Joe Nollek vergibt 8 von 10 Punkten