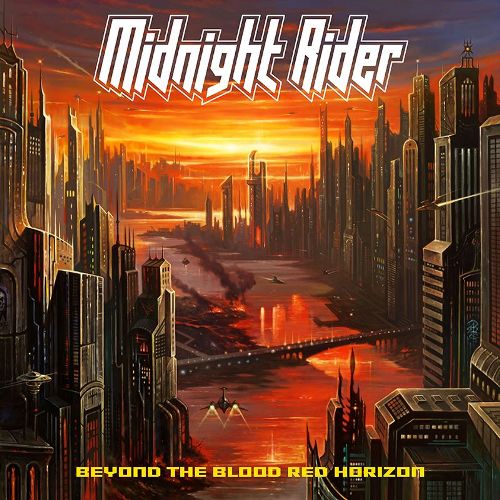 MIDNIGHT RIDER
Titel: UNDER THE BLOOD RED HORIZON
Spieldauer: 41:21 Minuten
VÖ: 7. Oktober 2022
MIDNIGHT RIDER aus Koblenz sind ja nun keine Unbekannten mehr, haben sie doch zum Einen schon mit dem Longplayer "Manifestation" im Jahr 2017 begeistern können und zum Anderen sind mit Leuten wie Blumi und Cliff (ex Metal Inquisitor) nun auch keine unbekannten Mucker an Bord.
Die Mucke von MIDNIGHT RIDER unterscheidet sich aber doch von deren alter Spielwiese. Hier regiert Früh Achtziger Sound, der mit massenhaften 70er Jahre Vibes verfeinert wird. In erster Linie seien hier einmal Judas Priest zu Zeiten von "Stained Class" oder "Killing Machine" als Vergleichsmaßstab genannt. Bei dem aktuellen Dreher gesellen sich übrigens auch viele Rainbow Einflüsse dazu.
Normalerweise bin ich ja kein Freund von Bands, welche es mit den siebziger Jahre Einflüssen übertreiben, aber hier ist es ähnlich wie bei der aktuellen Spellbook eine gelungene Synthese beider Stile.
Hört euch einfach mal Songs wie den rockigen Opener und gleichzeitigen Titeltrack 'Beyond The Blood Red Horizon' mit seinem melodischen Refrain, das von einem Sabbath Riff geführte 'No Mans Land', das zwischen balladesken und rockig treibenden Parts wechselnde, mit einer schönen Dynamik versehene 'Time Of Dying', das rockige 'Demons', das im Mid Tempo daher kommende 'YourParole' und den fulminanten Rauswerfer 'Always Marching On' – Hallo, weiss Algy von dem Tank Riff? – an.
Der analoge Sound passt übrigens hervorragend zur dargebotenen Mucke von MIDNIGHT RIDER, so dass hier mein Daumen bei dieser Scheibe direkt nach oben geht. Wie gemacht für eine Vinyl Veröffentlichung
Ludwig Lücker vergibt 8,5 von 10 Punkten