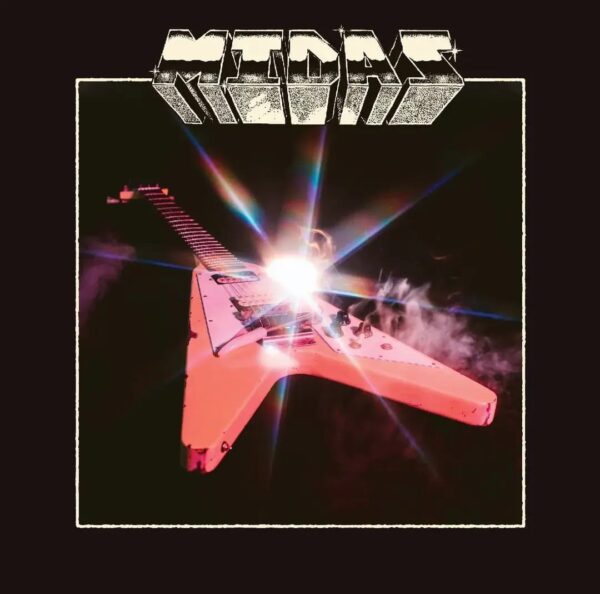 Label: NO REMORSE RECORDS
Spieldauer: 33:15 Minuten
VÖ: 29. April 2022
MIDAS aus Detroit Rock City, Michigan, USA, sind 2018 aus zwei ortsansässigen Hardrockbands hervorgegangen und präsentieren ihr selbstbetiteltes Full-Length-Debüt, das den Sound der späten 70er und früher 80er am Übergang vom Heavy Rock zum Metal einfängt.
Der Proto/Vintage/Retro-Sound des Quartetts zeigt sich beeinflusst von Bands wie Heavy Load, Tank, Alien Force, Riot sowie Größen wie Thin Lizzy und Judas Priest. MIDAS erweisen ihren Heroen auf angenehm unaufgeregte, zurückhaltende und zudem gekonnte Art ihre musikalische Ehrerbietung.
Die acht Tracks zeugen von kreativem, fachmännisch-raffiniertem Songwriting mit virtuosen Melodien, Refrains und Soli und dem markanten, rauen Organ von Frontmann Joe Kupiec. Die warme, organische Produktion trägt zudem ihren Teil zu einem rundum empfehlenswerten, ein wenig nostalgischen Hörerlebnis bei.
Schon der beseelt rockende Opener `Slaves To The Night´ und das synthielastigere, ein wenig Richtung Underground-AOR schielende `Break the Chains´ sind erste Highlights.
Der bockstarke Doppelpack aus `Eyes In The Cold´ und `Hell Has Frozen Over´ tönt wie aus einem Guss, geht beinahe wie ein Song ineinander über und glänzt mit Power, Esprit und grandiosen Über-Refrains.
Auch das folgende, mitreißende Stück Speed Metal `Running Scared´ und die abschließende ultra-eingängige Hymne `Golden Chariots´ wollen einem schon nach wenigen Durchläufen nicht mehr aus Ohr und Gedächtnis gehen.
Insgesamt ist "Midas" ein inspirierter, unterhaltsamer Silberling, der Laune macht und eine gute halbe Stunde lang zeitgemäßen Old School Heavy Metal mit Herz und Hirn bietet.
Michael Gaspar vergibt 8 von 10 Punkten