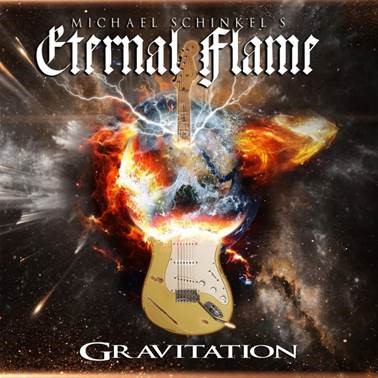 MICHAEL SCHINKEL'S ETERNAL FLAME
Titel: GRAVITATION
Label: ROCK OF ANGELS RECORDS/SOULFOOD
Spieldauer: 49:59 Minuten
Bei Gitarrist und Sänger Michael Schinkel treffen klassischer Heavy Metal mit seiner beeindruckenden Gitarrenarbeit auf eingängige Rocksongs und packende Melodien. Zum Lineup von ETERNAL FLAME gehören neben dem Saitenhexer Helmut Kohlpaintner (Keyboards), Thomas Keller (Bass) und der neue Drummer Tommy Wagner.
Gemeinsam mit den Gastsängern Mark Boals und Göran Edman legt das Quartett nun das zweite Langeisen "Gravitation" vor. Hier stehen metallische Ohrwürmer wie 'Rage' oder 'Fallin' hymnischen Melodic-Rock-Granaten wie 'Hard Times For Dreamers' in nichts nach.
Zu den weiteren, vielen Highlights gehören das kraftvolle, eindringliche, aber ebenso eingängige wie atmosphärische 'Damian' mit seinem Hammer-Chorus genauso wie das gefühlvolle und am Ende ebenfalls hymnische Duett 'No Way To Hide'.
Darüber hinaus gibt es auch klassischen Hardrock/AOR mit etwas mehr Keyboardeinsatz wie die beiden grandiosen Ohrwürmer 'Strange Game Called Love' und 'Stay In The Middle Of The Night' zu hören. Den gelungenen Abschluss der Scheibe bildet eine instrumentale, metallische Vertonung des 'Hungarian Dance 5' von Johannes Brahms.
Fantastischer Silberling mit einigen Höhepunkten und jeder Menge schicker Melodien und Refrains, die sich allerdings oft erst beim dritten oder vierten Durchlauf in den Gehörgängen und Gehirnwindungen festkrallen. Aber dann wird mal mit einem Haufen hochkarätiger Songs belohnt.
Michael Gaspar vergibt 8 von 10 Punkten