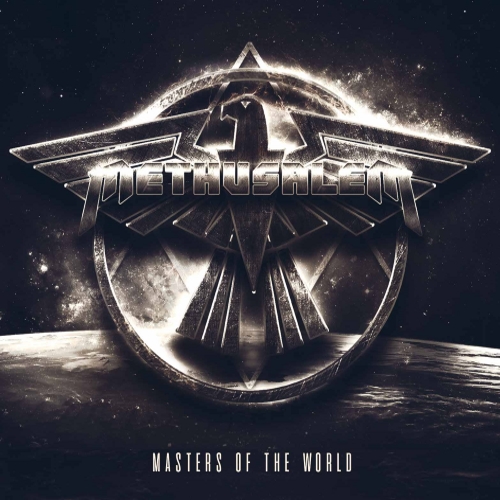 METHUSALEM
Titel: MASTERS OF THE WORLD
Spieldauer: 20:27 Minuten
Obwohl bereits in wechselnden Besetzungen seit dem Jahr 2000 umtriebig unterwegs, hat es für die niederländischen Metaller METHUSALEM bisher, neben zwei Demos und Samplerbeiträgen, nur zu einem offiziellen Album-Release, namentlich 'Unite And Conquer' aus dem Jahre 2010 gereicht.
Unter dem bescheidenen Banner 'Masters Of The World' folgt nun, 'nur' 10 Jahre später, ein erneutes Lebenszeichen in Form einer 4-Track-EP. Bekanntestes Bandmitglied von METHUSALEM dürfte dabei Sänger Nick Holleman sein, der, neben seinem Engagment bei Powerized und Sinbreed, auch schon die Drehtür des Frontmanns bei Vicious Rumors benutzt hat.
Geboten wird hier Power-Metal, Frisian Power Metal, um ganz genau zu sein. Und das heißt im Falle METHUSALEM nicht ganz genau zu sein. So frönt man bei dem eröffnenden 'Thunderstorm' mit seiner helloweenesken Melodieführung eher der europäischen Variante, wogegen der folgende Titeltrack mehr die amerikanische Version, mit leichten Iced Earth-Anleihen repräsentiert. Um das Ganze noch ein wenig moderner zu gestalten, werden gelegentliche Growl-Parts eingestreut, die aber nicht weiter stören. Wie der Titel 'Immortal' beim dritten Song schon erahnen lässt, wildert METHUSALEM hier in deutlich epischeren Gefilden und als Abschluss präsentieren die Frisian Metal Warriors dann mit, ja, äh, 'Frisian Metal Warriors' noch einmal alle Trademarks in einem Song komprimiert.
Das ist alles sehr kompetent gemacht, die Gitarrenmelodien sind sorgfältig ausgearbeitet, Hollemans Gesang hochprofessionell, die Rhythmustruppe tight, und doch packt mich das Ganze nicht vollständig am Gemächt. Freunde des melodischen Power-Metal mit hohem, klaren Gesang sollten sich davon aber nicht abhalten lassen und METHUSALEM trotzdem ein bis zwei Ohren gönnen.
Dirk Eckhard vergibt 7 von 10 Punkten