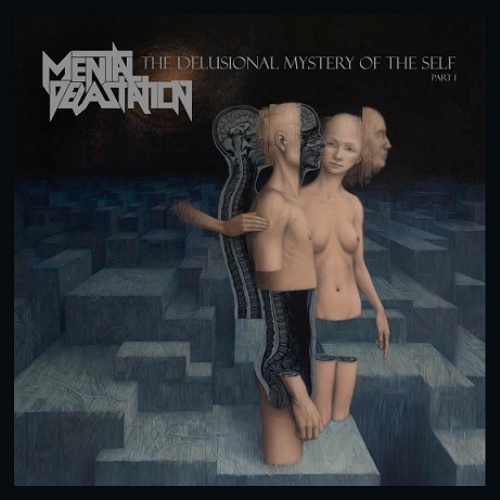 MENTAL DEVASTATION
Titel: THE DELUSIONAL MYSTERY OF THE SELF PART I
Spieldauer: 42:13 Minuten
Die aus dem fernen Chile stammenden Thrasher MENTAL DEVASTATION sind für mich ne wahre Thrash Überraschung, da sie mir bisher völlig unbekannt waren, mich aber mit ihrem zweiten Longplayer völlig überzeugen.
Die vier-köpfige Truppe aus dem im Bundesstaat Valparaiso liegenden Villa Alemana (sic) ballert hier nicht den in Südamerika so häufigen Black Thrash aus den Boxen, sondern feinsten Bay Area Thrash, der mich häufiger mal an Forbidden und Death Angel erinnert; wahrlich keine schlechten Reminiszenzen.
Die Jungs kombinieren dabei technisch hochwertigen Thrash mit rauen Vocals und Gang Shouts sowie der nötigen Grundaggressivität.
So ballern Tracks das zwischen Speed und Mosh Parts wechselnde 'Ascension', das nach einem Schlagzeug Einstieg abwechslungsreich gestaltete 'Labyrinth', das an Tech Thrash erinnernde 'The Abyss', das überwiegend stampfende 'Vulcanic Eruption', das zwischen Ultr Speed und pumpenden Mid Tempo wechselnde 'Perpetual Dualities' und der abschließende zehn-minütige Longtrack 'Reflections Over The Veils Of Death' bretthart und konsequent aus den Boxen.
Wer mit auf mit Herzblut gespielten Bay Area Thrash Metal steht, und welcher Metalhead tut dies nicht, der sollte MENTAL DEVASTATION mindestens ein Ohr leihen.
This South American Thrash Assault kills!
Ludwig Lücker vergibt 9 von 10 Punkten