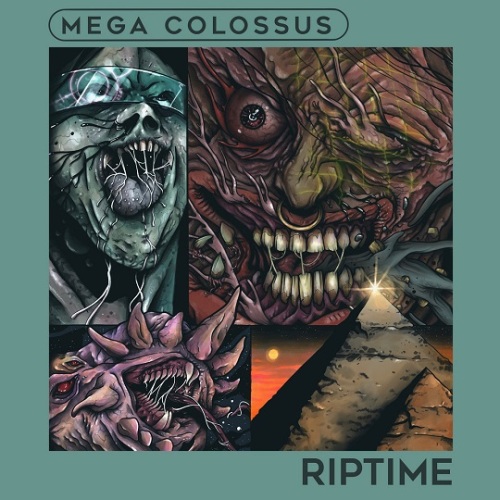 MEGA COLOSSUS
Titel: RIPTIME
Spieldauer: 40:48 Minuten
MEGA COLUSSUS, die Truppe aus Nord Carolina beehrt uns mal wieder mit einem neuen Scheibchen, es ist sogar schon der dritte Longplayer plus drei ebenfalls erschienene EP's.
Ihrem Stil sind sie getreu der New Wave of Traditional Heavy Metal treu geblieben. Hier regiert das, was den Heavy Metal seit jeher ausgemacht hat; harte Riffs, treibender Bass, ein fettes Schlagzeug und prägnante Songs zum Fist Raisen und für die Ewigkeit. Häufig mischen die US Amerikaner hier auch noch eine Spur Epic hinein.
Prägnant sind auch die relativ hellen Vocals von Sean Buchanan, der mit hymnischen Vocalmelodien häufig das i-Tüpfelchen auf die Tracks setzt.
Und so laden uns Songs wie der treibende, schnelle Opener 'Razor City', der Galoppel Mid Tempo Banger ' Midnight Zone', das hymnische Mid Tempo Epos 'Vigilo Confido', das nach ruhigen Einstieg mächtig pumpende und episch auslaufende 'Run To The Fight' und das abwechslungsreiche 'Iron Rain' zum Headbangen und Bier trinken ein.
Gibt es etwas was MEGA COLOSSUS nicht können? Tja, das Cover Artwork könnte man sicherlich noch mal überdenken; ansonsten besteht hier zum Jahresende noch einmal Kaufpflicht für traditionelle Headbanger.
Oder um es mit diesem Infoblattauszug passend zu beenden: Are you ready to get ripped with MEGA COLOSSUS?
Ludwig Lücker vergibt 9 von 10 Punkten