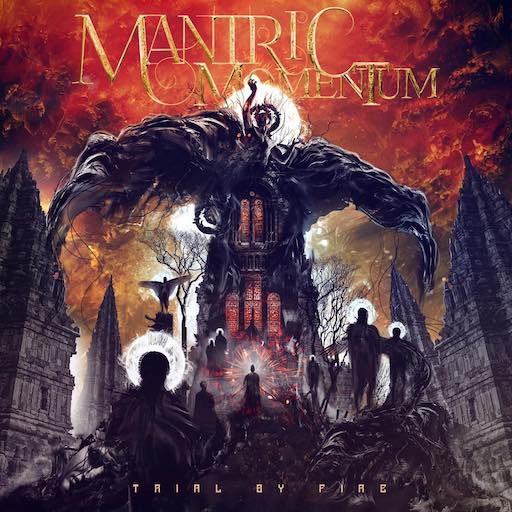 MANTRIC MOMENTUM
Titel: TRIAL BY FIRE
Spieldauer: 61:25 Minuten
VÖ: 11. November 2022
Dieses Debütalbum unter den Fittichen von Frontiers Records stammt von den beiden Cousins Sänger Terje Harøy (Pyramaze) und Multi-instrumentalist/Songwriter Christer Harøy (Divided Multitude, Crossnail).
"Trial By Fire" bietet Melodic/Heavy Metal mit US (Prog) Metal Einflüssen und einen Haufen richtig guter Songs. Die Riffs krachen und scheppern ganz schön und der Frontmann legt eine beeindruckende Performance aufs Parkett.
Das Duo produziert eine packende Dynamik, schicke Melodien und viele gelungene Refrains. Davon legen beispielsweise die beiden Vorabsingles `In The Heart Of The Broken´ und `New Horizon´, aber auch der mitreißende Titelsong und das treibende `In The Eye Of The Hurricane´ mehr als hörbar Zeugnis ab.
Dabei geht es durchaus frisch und modern zu Werke, ein Song wie das flotte, mächtige `Final Warning´ mit seiner Wucht und den eingestreuten aggressiven Vocals könnte fast genauso gut ein Trivium-Song sein.
Einige Gastbeiträge sind ebenfalls noch zu erwähnen. Als da wären die Drummer Frank Nordeng Røe und Lawrence Dinamarca, Jimmy Hedlund, der einige Gitarrensoli beisteuert und Magnus Karlsson, welcher für das orchestrale Intro `Tabula Rasa´ verantwortlich ist.
Auf das abschließende, gelungene Cover des Sandra Hits (1985) und Bonus-Tracks `(I´ll Never Be) Maria Magdalena´ beschränkt sich die Mitwirkung von Drummer Truls Haugen, Keyboarder Ketil A. Jensen und die Hexed-Sängerin Tina Gunnarsson.
Unter dem Strich eine starke, zeitgemäße und kurzweilige Scheibe eines talentierten, eingespielten Duos, darunter auch und vor allem ein fantastischer Sänger.
Michael Gaspar vergibt 8 von 10 Punkten