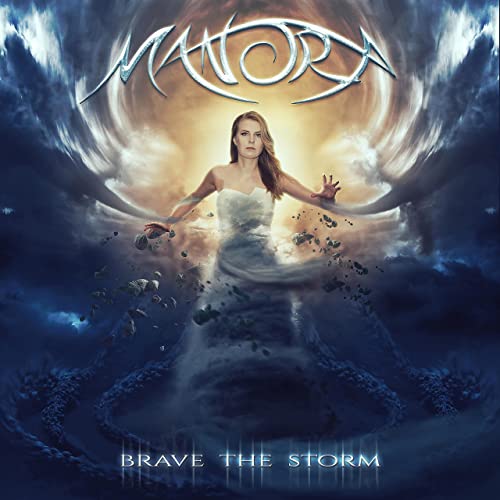 MANORA
Titel: BRAVE THE STORM
Spieldauer: 60:18 Minuten
"Brave The Storm" ist das Full-Length-Debüt der niederländischen Symphonic Metal Band MENORA, die von Gitarrist Ivo Visser und Keyboarder Arthur Stock aus der Taufe gehoben wurde. Später stießen Dummer Tijn Scholtze, Bassist Tomas Kisielewicz und Mirte van der Ham am Mikro zum Lineup, welches nun seit 2016 stabil ist.
Viel mehr lässt sich über das junge, hungrige und talentierte Quintett nicht herausfinden, also lassen wir die Musik sprechen. Ihren Symphonicsound machen packende Melodien, gelungene Orchestrierungen, opulente Chöre und die cleanen Vocals der Frontfrau über einem soliden, metallischen Fundament aus.
Der Opener 'System Shutdown' zeigt in beeindruckender Weise, wohin die symphonische Reise geht, und bietet einen gelungenen Einstieg. Bei den folgenden 'The Traveler' und 'Break Your Fall' werden die zarten, weiblichen Vocals von den üppigen Streicher- und/oder Bläserpassagen manches Mal übertönt.
Wenn Mix und Ausgewogenheit besser gelingen wie beim rhythmisch interessanten und abwechslungsreichen "Hit" 'Wired To Obey' oder der Double-Bass-Hymne 'Endgame' wissen die Stücke deutlich besser zu gefallen.
Dass hier motivierte und äußerst talentierte Musiker am Werk sind, zeigen auch der fulminant orchestrierte, leicht progressive Ohrwurm 'Symphony Of Lies', das bombastisch-kraftvolle 'Dreamshapes' und das abschließende mit Spieluhr- und Pianoklängen sowie (Kinder-)Chören veredelte 'A Beautiful Tragedy'.
Und da sogar die obligatorische Piano-/Streicher-Ballade 'The Heavens (Are A Picture Frame)' überzeugen kann, bleibt als Fazit nur beide Daumen hochzurecken für ein herausragendes, vielfältiges und äußerst kurzweiliges Debüt!
Michael Gaspar vergibt 8 von 10 Punkten