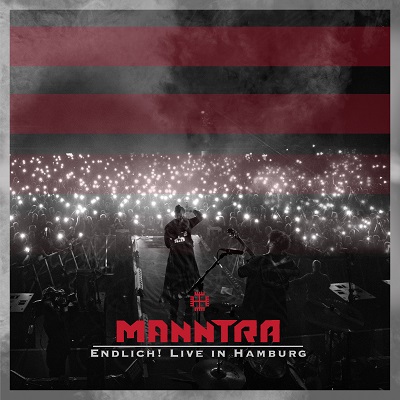 MANNTRA
Titel: ENDLICH! LIVE IN HAMBURG
Label: NOCUT ENTERTAINMENT
Spieldauer: 32:11 Minuten
VÖ: 09. Dezember 2022
Im Frühjahr 2022 begleiteten die kroatischen Folk/Electro Rocker MANNTRA Deutschlands Nummer 1 Dark Rock Band Mono Inc. auf ihrer "The Book Of Fire 2022" Tour durch ganz Deutschland und machten dabei am 14.05.2022 Halt in der Sporthalle in Hamburg. Dieser Auftritt wurde aufgezeichnet und wird nun unter dem Titel "Endlich! Live in Hamburg" auf allen Streaming-Plattformen veröffentlicht.
Die Kombination aus harten Metal-Riffs, kraftstrotzenden Industrial Sounds und traditionellen Folkinstrumenten verbunden mit dem hohen, unmittelbaren Mitsingpotential von Ohrwürmern wie `Yelena´ und `Ori Ori´ kommen beim Synthie/Dark/Gothic Rock Publikum gut an und bringen die Anwesenden beinahe vollzählig zum Klatschen und Tanzen.
In den gut 30 Minuten brennen MANNTRA ein mitreißendes Feuerwerk ihrer größten Hits wie `In The Shadows´ (eingeleitet durch einen brachialen Electro-Remix), `Not Guilty´ und `Slave´ ab. Den umjubelten Schlussakkord liefert `Nightmare´, die erste Auskopplung des aktuellen, erst im August erschienenen "Kreatura" Albums.
Über Sinn oder Unsinn eines Livealbums eines 30-minütigen Supportgigs kann man sicherlich geteilter Meinung sein, aber da es sich um ein rein digitales Release handelt und der zugehörige Videomitschnitt bereits auf den üblichen Plattformen zugänglich ist drücken wir hier mal ein Auge zu.
Betrachten wir es also als das, was es letztlich ist: ein energiegeladenes, kurzweiliges Livedokument mit dem Zeug dazu, die Wartezeit bis zu den nächsten Konzerten und dem folgenden Album zu verkürzen.
Michael Gaspar vergibt 7,5 von 10 Punkten