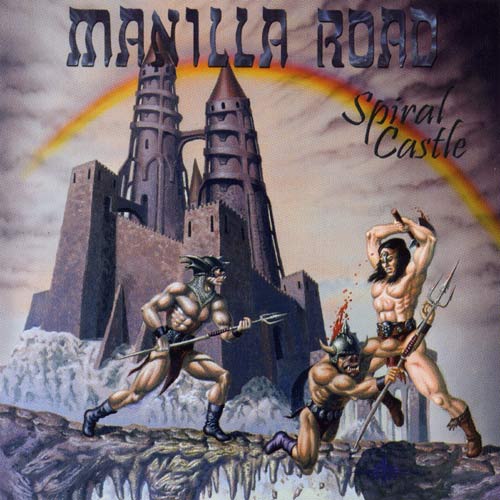 MANILLA ROAD
Titel: SPIRAL CASTLE
Spieldauer: 52:38 Minuten
"Spiral Castle" stammt original aus dem Jahre 2002, also noch relativ früh nach der erfolgten Reunion der Band aus Wichita.
Erst ein Jahr zuvor erschien "Atlantis Rising". Dies hatte zur Folge, dass der MANILLA ROAD Mastermind Mark "The Shark" Shelton für "Spiral Castle" auf einige ältere Tracks zurück griff, diese aber für den neuen Sänger Brian "Hellroadie" Patrick etwas umarbeitete. "Spiral Castle" gehört mitnichten zu den absoluten Glanztaten der Band, es bietet aber dennoch den für MANILLA ROAD so typischen Stoff an epischen, kauzigen Heavy Metal, der aber auch zu Beginn der 2000er Jahre noch nicht den Kultstatus inne hatte, den er heutzutage, gerade bei südeuropäischen und südamerikanischen Headbangern, berechtigterweise hat.
Mit Tracks wie 'Seven Trumpets' oder 'Merchants Of Death' bietet das Langeisen interessante Mucke, wobei ich sagen muss, dass der Titeltrack 'Spiral Castle', ein richtig fetter Brecher, mein persönlicher Lieblingstrack dieses Longplayer ist. Der Sound ist nicht besonders grossartig, auch nicht in der remasterten Version von Patrick Engel, aber authentisch und allemal besser als die bei dem ebenfalls momentan wieder aufgelegten "The Courts Of Chaos". Mit 'Throne Of Lies' gibt es einen Bonustrack, der im Original nicht vorhanden war, jedoch auf weiteren schon erfolgten Re-Releases schon vertreten war.
Die Scheibe gibt es nur auf Vinyl, 150 mal in schlichten schwarz, 150 mal in transparent deep purple und 200 mal in silber.
Ludwig Lücker vergibt keine Bewertung