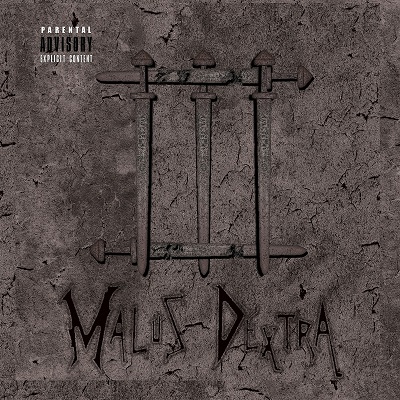 MALUS DEXTRA
Titel: III, PT. 1 (EP)
Label: WORMHOLEDEATH RECORDS
Spieldauer: 15:40 Minuten
VÖ: 25. November 2022
Die US Metaller MALUS DEXTRA haben bisher zwei Longplayer und zuletzt die Dual-EPs "Bangin Bionic Beats" und "A Somber Moment" (2021), einen akustischen 6-Tracker, veröffentlicht. Den dritten Studiodreher wird das Power-Tiro ebenfalls als Multi-Part-Release herausbringen, so dass wir es auf "III, Pt. 1" zunächst einmal nur mit vier neuen Tracks zu tun bekommen.
Die drei Musiker mischen Modern Metal mit Hardcore und Rap-Elementen und berufen sich darauf, sowohl Fans von Killswitch Engage als auch Slayer und I Prevail anzusprechen, was durchaus hinkommen könnte.
Die vier Songs strotzen vor Dynamik, Power und Energie und wirken roh und authentisch, was auch daran liegen mag, dass sie ohne viel Vorbereitungszeit und Proben beinahe live aufgenommen wurden oder wie die Band selbst sagt: "Malus Dextra III is raw, it´s real, it´s controlled chaos in its purest form".
Der Opener `Pit´ geht gut nach vorne, überzeugt mit Kraft und Rhythmus und einem prächtigen Solo, bevor der Kracher `Tomorrow´ vor allem mit seinem packenden Chorus, bei dem auch Growls zum Einsatz kommen, glänzt.
Das abschließende `Till The End´, das in meinen Augen beste und "eingängigste" Stück, besticht mit einem hymnischen Refrain und einem weiteren flirrenden Gitarrensolo, während das knallhart-flotte `Parasite´ Vollgas, verzerrte Vocals und kreischende Gitarren zu bieten hat.
Musik und auch die Texte transportieren Wut und Aggression über die Spaltung der (nicht nur US-amerikanischen) Gesellschaft, das globale Chaos und prangern Korruption an.
MALUS DEXTRA liefern hier eine gute, abwechslungsreiche Leistung ab und mischen ihrem Metal/Hardcore Mix auch dann und wann Thrash-Elemente bei, was für Fans von Machine Head, Lamb Of God, DevilDriver oder auch Biohazard auf der einen und Trivium auf der anderen Seite interessant sein könnte.
Michael Gaspar vergibt 7 von 10 Punkten