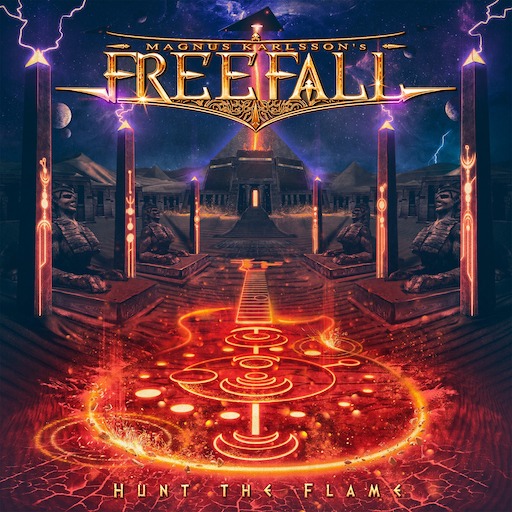 MAGNUS KARLSSON'S FREE FALL
Titel: HUNT THE FLAME
Spieldauer: 59:15 Minuten
VÖ: 14. April 2023
Das schwedische Multitalent MAGNUS KARLSSON und sein Soloprojekt FREE FALL stehen für packenden Melodic Rock/Metal mit einer jeweils hochkarätigen Besetzung an Gastvokalisten. Die Geschichte begann 2013 mit dem selbstbetitelten Debüt und wird nun durch Album Nummer vier "Hunt The Flame".
Dieses Mal bedient sich der Gitarrist, Songwriter und Produzent in Personalunion einiger nicht gänzlich unbekannter, aber doch etwas weniger prominenter Sänger als bei den vorigen Ausgaben, als unter anderem Rick Altzi, Ralf Scheepers, Jorn Lande und David Readman Gewehr bei Fuß standen.
Als da wären: Alexander Strandell (Art Nation, Crowne), Jakob Samuel (The Poodles), James Durbin (Durbin, Cleanbreak), Kristian Fyhr (Seventh Crystal, Ginevra), James Robledo (Sinner's Blood), Michael Eriksen (Circus Maximus), Girish Pradhan (Girish And The Chronicles), Raphael Mendes (Icon Of Sin), Terje Haroy (Pyramaze, Mantric Momentum), Jake E (Cyhra), and Antti Railion (Celesty, Diecell, The Wildfire).
Der Meister bietet die von seinen unzähligen Bands und Projekten gewohnte hohe musikalische und songwriterische Qualität und doch will der Funke nicht so recht überspringen. Fehlt es doch an den berühmten Ecken und Kanten, manches wirkt gleichförmig, beinahe zu perfekt und mit zu viel Keyboardguss zugekleistert.
Da verwundert es nicht, dass vor allem besondere Stimmen herausstechen und solche, denen es mit ihren Vocals gelingt, dem jeweiligen Song ihren Stempel aufzudrücken und/oder die nötigen Ecken und Kanten sowie ein wenig Emotion und Tiefe zu vermitteln, so wie es beispielsweise Shootingstar Girish Pradhan bei `Holy Ground´ oder Antti Railion mit dem finalen `Summoning The Stars´ gelingt.
Weitere Anspieltipps definitiv der packende, AOR-lastige Opener und Titelsong `Hunt The Flame´ mit Art Nation sowie Crowne Fronter Strandell, das grandiose `Far From Home´ sowie der mitreißende, ebenfalls stadion- und radiotaugliche Ohrwurm `The Lucid Dreamer`, der von Terje Haroy (Pyramaze, Mantric Momentum) meisterlich interpretiert wird.
Vielleicht lässt es sich am besten so zusammenfassen: solide Scheibe mit elf guten bis sehr guten Songs und elf grandiosen Sängern und einige musikalischen Glanzlichtern, aber kein einziges Mal Gänsehaut und kein einziger Schauer, der mir über den Rücken läuft.
Michael Gaspar vergibt 7 von 10 Punkten