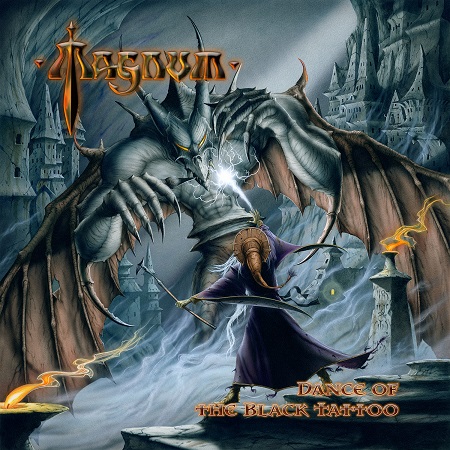 MAGNUM
Titel: DANCE OF THE BLACK TATTOO
Spieldauer: 01:13:00 Minuten
MAGNUM beglücken uns gleich zu Beginn des neuen Jahres mal wieder mit einer Compilation. Drei Jahre nach Veröffentlichung von "The Valley of Tears", welches einen Überblick über die softe Seite der Hardrock Veteranen bot, hat man sich diesmal der rockigeren, härteren Songs gewidmet.
Statt es sich jedoch an dieser Stelle einfach zu machen und die bekannten Studioversionen lieblos aneinanderzureihen, hat man sich dazu entschieden 14 Songs auf das Album zu packen, die man zum Teil in der dargebotenen Form nicht kennt, oder die man bisher nur schwer bekommen konnte, da sie von limitierten Ausgaben stammten. Hierbei handelt es sich um rare Live-Aufnahmen und Radio Edits, die zusätzlich mit einem neuen Anstrich versehen und aufpoliert wurden, sodass "DANCE OF THE BLACK TATTOO" wie aus einem Guss klingt. Abgerundet wird der großartige Gesamteindruck durch das tolle Covermotiv von Rodney Matthews.
Auch wenn man grundsätzlich über Sinn und Unsinn solcher Zusammenstellungen streiten kann, muss man sagen, dass Magnum hier durchaus Value für Money bieten. Fans der Band, die ohnehin alle Veröffentlichungen der Herren im Regal stehen haben, sollten vielleicht vorab schauen, ob sich der Erwerb der Scheibe tatsächlich für sie lohnt. Alle anderen, deren Sammlung noch einige Lücken ausweist sowie Neueinsteiger, die die Band gerne kennenlernen wollen, können sich "DANCE OF THE BLACK TATTOO" aber bedenkenlos zulegen.
Melanie Pank vergibt keine Bewertung