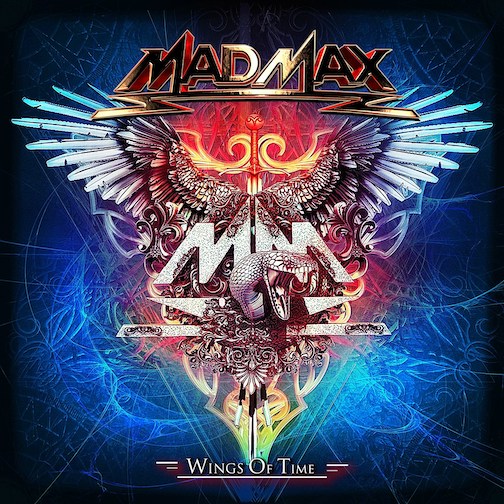 MAD MAX
Titel: WINGS OF TIME
Label: ROCK OF ANGELS RECORDS/SOULFOOD
Spieldauer: 44:18 Minuten
VÖ: 02. September 2022
Nach fünfzehn Alben und rundem Bandgeburtstag von 40 Jahren legen die deutschen Heavy/Melodic Rocker MAD MAX mit "Wings Of Time" ein neues Studioalbum vor und liefern dabei so richtig amtlich ab.
Die elf neuen Songs sind samt und sonders das Anhören mehr als wert und begeistern mich von Minute eins bis fünfundvierzig. Von rockig bis AOR-lastig, etwas mehr Power, flott oder balladesk hier wird die gesamte Hardrock-Klaviatur gekonnt und packend bedient.
Der rockige Opener `Too Hot To Handle´ gefällt ebenso wie der Ohrwurm `When It Stops´ oder das hymnische `Heroes Never Die´. Apropos Hymne, da fällt dem Hörer unmittelbar das grandiose `The Stage Is For You´ ein.
Das mitreißende `Rock Solid´ ist ein melodisches Duett mit einer leider nicht näher genannten Sängerin, bevor das flotte `Stormchild Rising´ für MAD MAX goes Power Metal steht und genauso überzeugen kann wie der Rest der Scheibe. Auf dem Track `Best Part Of Me` ist zudem Bon Jovi Bassist Hugh McDonald zu hören. Hier könnte man jeden einzelnen Song durchgehen und es wäre schwer, das schwächste Glied der Kette überhaupt zu identifizieren.
"Wings Of Time" ist ausgereift, handwerklich und gesanglich perfekt, aber eben auch modern, frisch und ungemein packend – und das über die gesamte abwechslungsreiche Dreiviertelstunde.
Michael Gaspar vergibt 9 von 10 Punkten