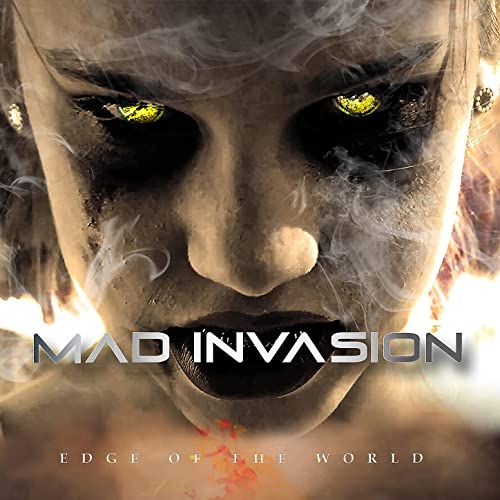 MAD INVASION
Titel: EDGE OF THE WORLD
Label: INDEPENDENT RELEASE
Spieldauer: 41:20 Minuten
Das schwedische Quintett MAD INVASION verbindet auf seinem Debüt "Edge Of The World" den Vintage-Ansatz des Hard Rock der 70er Jahre mit modernen Einflüssen sowie mit Eingängigkeit, Harmonie und Heaviness des Melodic Metal.
Dabei findet man beinahe eine stilistische Zweiteilung der Scheibe vor und könnte fast meinen, es mit einer Split-LP zu tun zu haben. Denn die erste Hälfte der Songs ist eher schleppend, fast doomig, mit schweren Gitarrenriffs und einer teilweise recht dunklen Stimmung. Trotzdem sind auch eine gewisse Eingängigkeit sowie melodische Parts, Soli und packende Refrains vorhanden.
Meine Favoriten in diesem Part sind der Opener und Titelsong sowie das atmosphärisch dichte, beschwörende mit kraftvollem Chorus glänzende 'Destruction'. Mit dem folgenden 'Until The End' ändert sich jedoch in meinen Ohren etwas Grundlegendes.
Die Kompositionen werden deutlich eingängiger, aber vor allem positiver, leichter und deutlich in Richtung melodischer 80er Hard Rock orientiert. Hier ragen das grandiose 'Walking In The Shadows' mit seinen Leads und den hymnischen "I know"-Chören im Refrain und der brillante Ohrwurm 'Trial By Fire' heraus.
Insgesamt ein solider Dreher bei dem ich dennoch ein wenig mehr Eigenständigkeit und ein paar Überraschungen, vor allem aber noch ein paar mehr richtig fulminante Songs vermisse.
Michael Gaspar vergibt 7,5 von 10 Punkten