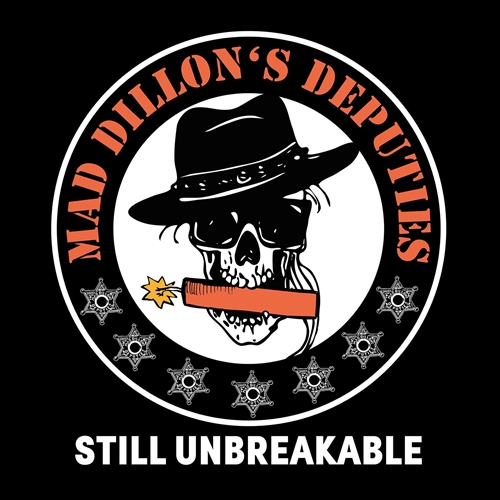 MAD DILLON´S DEPUTIES
Titel: STILL UNBREAKABLE
Spieldauer: 42:05 Minuten
VÖ: 01. Juli 2022
Die Hagener Band, die sich 1978 gegründet und zunächst dem Krautrock verschrieben hatte, bringt mit ""Still Unbreakable" erstmals ein Album auf den Markt, das ausschließlich Eigenkompositionen enthält.
Die "glorreichen 7" haben seit 2020 mit Dirk Tetampel und Vera Heinisch zwei neue Frontleute, mit denen sowohl die ersehnte Orientierung "back to the roots" als auch die Verwendung ausschließlich eigener Stücke möglich wurde.
Der Sound besteht Blues-, Hardrock- und melodischen Metal-Elementen und kann mit Fug und Recht als "Gute-Laune-Rock" bezeichnet werden. Trotz oder gerade wegen einer Bandgeschichte voller Aufs und Abs von Besetzungswechseln und dem zum Teil tragischen Verlust geschätzter Bandmitglieder bis hin zur Zerstörung des Proberaums durch die Flutkatastrophe 2021 stecken hörbar viel Energie, Herzblut, Spielfreude und Kreativität in der neuen Scheibe.
Der kraftvolle Opener `Are You Ready´ und das flotte, eingängige `Crazy´ verbreiten ein wenig Motörhead-Flair, während `Horrorwood´ und das abschließende, grandiose `Crawling Monsters´ leichte South Western Horror meets Alice Cooper Vibes versprühen.
Bei den folgenden `Modesty´ und `Hell Sent Goddess´ werden die Vocals ausschließlich von Rockröhre Vera übernommen, was mitreißt umgesetzt wird und für Abwechslung und Dynamik sorgt.
Er folgt der Ohrwurm `How does it feel (A tale from Damian Darkstar)´ die flotte duettartige Nummer `Spirit Of Rock, das eingängig-treibende `Perfect Eyes´ und die Hymne und gleichzeitig der Titeltrack `Still Unbreakable´.
Unter dem Strich eine kurzweilige, spannungsgeladene Scheibe mit abwechslungsreichen Songs, die Laune machen.
Michael Gaspar vergibt 8 von 10 Punkten