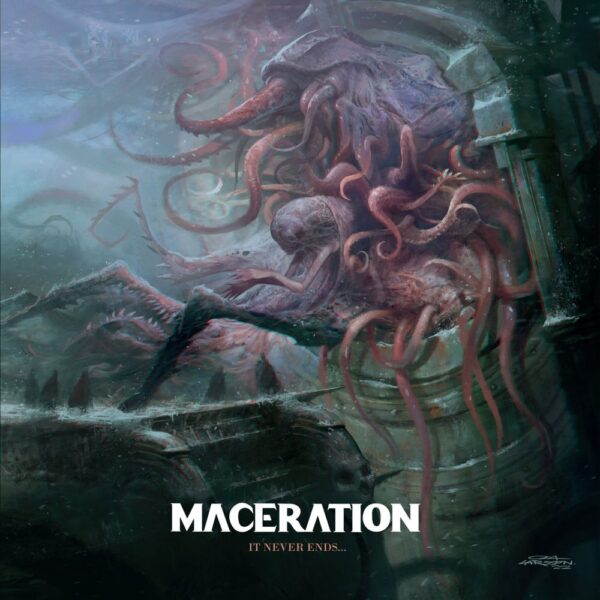 MACERATION
Titel: IT NEVER ENDS…
Label: EMANZIPATION RECORDS
Spieldauer: 38:19 Minuten
VÖ: 25. November 2022
Dänemark, seit jeher ein Lieferant hochwertiger – wenn auch in geringer Stückzahl vorhandener – High End Metallware. Egal ob Mercyful Fate, Artillery oder auch die Extremthrasher von Invocator, hier gab es immer wieder verlässliche und vollwertige Qualität. Letztgenannte hatten seinerzeit ein Seitenprojekt namens MACERATION, das vor 30 Jahren sein Debütalbum namens A Serenade of Agony in die aufstrebende Death Metalwelt gebar. Jacob Schultz (Gitarre) und Jacob Hansen (Drums) waren die beiden Gründer von MACERATION und ehemalige Invocator Musiker. Seitdem war es still um die Truppe, doch nun mit einigen Lineup Veränderungen (Hansen ist allerdings nicht mehr mit an Bord) und mit der Verpflichtung von Ur-Schreihals Dan Swanö sind die Death Metaller zurück.
Mächtig drücken die Songs aus den Boxen, Swanö bellt wie zu seligen Edge of Sanity Zeiten und malträtiert seine Stimmbänder wie wohl seit Jahrzehnten nicht mehr. Eine fiebrige Mischung aus Ami-Tod, namentlich Massacre und Diabolic sowie schwedischem Death Metal haben die fünf Dänen hier zusammengestellt. Das klingt alles enorm druckvoll, als wäre das erste Album erst anderthalb Jahre vergangen. Wenn ich ehrlich bin, finde ich keine herausstechenden Höhepunkte. Alle der neun Songs verbleiben auf ähnlich hohem Niveau: walzend, brutal, wütend und präzise und gleichzeitig roh. Ein klassisches Death Metal Album, schnörkellos und ohne Kompromisse. 
Schönes Comeback der Dänen, bin gespannt ob da noch mehr passieren wird. Einen festen Sänger konnten MACERATION bereits verpflichten. Und das Album wird mit jedem Durchlauf besser.
Ingo Holzhäuser vergibt 8 von 10 Punkten