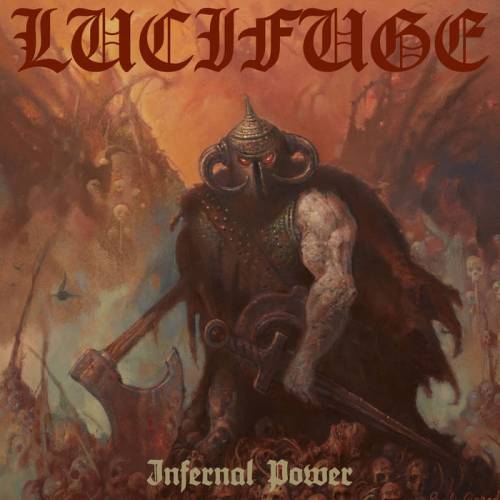 LUCIFUGE
Titel: ETERNAL POWER
Label: DYING VICTIMS PRODUCTION
Spieldauer: 34:32 Minuten
Hier handelt es sich übrigens um die Bremer LUCIFUGE – es existieren immerhin noch zwei weitere Kapellen gleichen Namens -, welche in der kurzen Zeit ihres Bestehens ein enormes Pensum an Output bewältigt haben.
LUCIFUGE haben mit "Eternal Power" im fünften Jahr ihrer Laufbahn bereits den vierten Dreher über die lange Distanz veröffentlicht; plus drei weitere EP's. Zockten sie zu Beginn eher puren Black Metal, haben sie sich mittlerweile dem schwarzen Thrash verschrieben, was auch gut so ist, legt man den aktuellen Dreher zugrunde. Der ballert dem geneigten Hörer nämlich glatt das Grosshirn aus der Rübe. Messerscharfe Riffs und ne enorme Power sind das Markenzeichen der Bremer.
Das als fette Mid Tempo Walze beginnende 'Leviathan Arise' verwandelt sich in treibendes Gemetzel, was bei dem folgenden treibenden Up Tempo Track namens 'Black Battallions' nahtlos fortgesetzt wird. Auch 'Temples Of Madness' marschiert ordentlich nach vorne. Das von einem sägenden Riff eingeleitete und sich nach einem Tom G. Warrior Gedächtnis "Uuugh" in einen Speedster wandelnde 'Beneath The Eyes Of The Black Flame" erinnert mich vom Vibe her mächtig an alte Venom und das eher schleppende 'The Doors Of Hell May Shake' ist bestens von alten Primordial inspiriert; es gibt schlimmeres in diesem musikalischen Universum.
Dennoch versuchen die Jungs größtmöglich eigenständig zu agieren, was ihnen auch meistens gelingt. Coole Scheibe.
Ludwig Lücker vergibt 8 von 10 Punkten