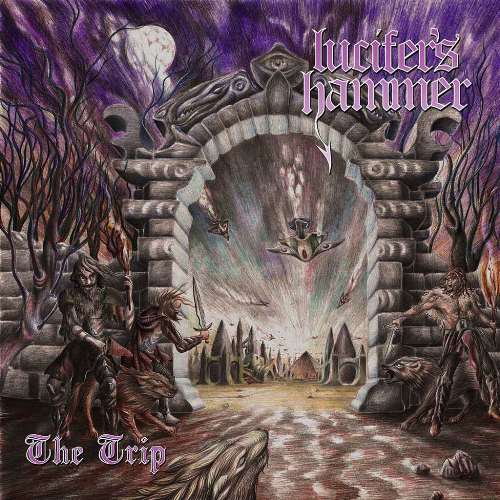 LUCIFER'S HAMMER
Titel: THE TRIP
Spieldauer: 31:35 Minuten
Wenn man auf eine Band namens LUCIFER'S HAMMER trifft, die dann auch noch aus dem südamerikanischen Chile stammt, dann denkt der geneigte Leser doch zuerst unweigerlich an Black Thrash. Dies trifft bei dem in Santioga beheimateten Quartett jedoch nicht zu.
LUCIFER'S HAMMER spielen traditionellen Heavy Metal und konzentrieren sich lediglich bei den textlichen Bezügen auf dunkle und okkulte Themen.
Dies setzen sie dann musikalisch gekonnt in Szene, wie man anhand von Tracks wie dem Mid Tempo Banger 'The Oppression', dem rhythmischen Galoppel Banger ''All Stories Come To An End', dem hymnischen und gleichzeitig enorm melodischen 'Illusion' oder dem an ein old Maiden Riff angelehnten Up Tempo Banger 'The Winds Of Destiny' unschwer erkennen kann.
Zudem sorgt der relativ melodische Gesang von Fronter Hades für die gewisse Portion an Eingängigkeit, die man als Band braucht um einen gewissen Wiedererkennungswert zu erzielen.
Zwar ist noch nicht alles Gold was glänzt, LUCIFER'S HAMMER bescheren uns hier aber eine gelungene Genre Scheibe, bei der Trad Metal Fans nicht verzweifeln werden.
Ludwig Lücker vergibt 7,5 von 10 Punkten