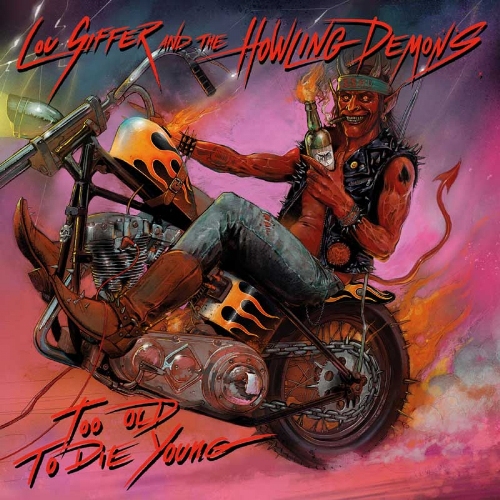 LOU SIFFER AND THE HOWLING DEMONS
Titel: TOO OLD TO DIE YOUNG
Spieldauer: 36:21 Minuten
Bei LOU SIFFER AND THE HOWLING DEMONS sollte man nicht so bierernst an die Sache heran gehen, was man auch schon durch das witzige Coverartwork und den coolen Albumtitel erahnen kann.
Die schwedische Truppe aus Uppsala zockt energiegeladenen Hard Rock/Rock'n Roll und  hat dabei auch eine leichte Punk und auch Metal Kante und latente Motör Vibes. Sie schaffen es jedenfalls eine gehörige Portion Energie in ihren Songs fest zu halten.
Bei Tracks wie dem Up Tempo Rocker 'The Worm', dem hymnischen Mid Tempo Track 'Sucks To Be You', dem pumpenden 'The Song That Wrote Itself' mit seinem ohoho Chorus, den schnellen 'Night Of The Damned' und 'Devil In Me' mit ihren Motörvibes und dem schnell daher kommenden Rocker 'Can't Slow Down' mit seinem melodischen Solo fällt es jedenfalls schwer, nicht sofort los zu zappeln.
Die rauen Vocals von K.Oz und die knackige Produktion passen exakt zur Mucke. Bei Autofahrten in geschwindigkeitsreduzierten Bereichen solltet ihr die Scheibe des Quartettes besser nicht voll aufdrehen…..es könnte teuer werden…..Zwölf knackige Tracks die Spass machen.
Ludwig Lücker vergibt 8,5 von 10 Punkten