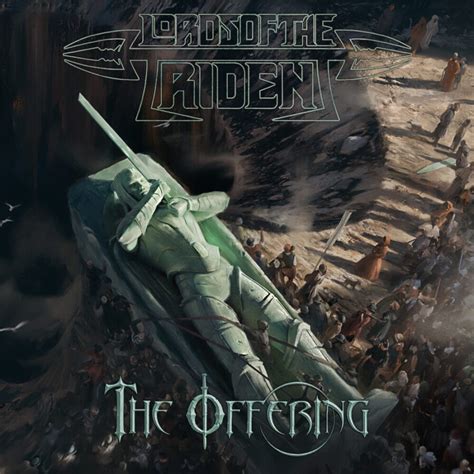 LORDS OF THE TRIDENT
Titel: THE OFFERING
Spieldauer: 60:39 Minuten
VÖ: 01. April 2022
Das US True Fantasy Metal Quintett LORDS OF THE TRIDENT fällt durch schräge Kostüme und Liveauftritte sowie das Klopfen großer Sprüche auf ("Our metal's so pure that only diamonds can scratch it, and usually the diamonds are the ones that end up getting hurt in the end. Our amps are so loud, Manowar knocked on our door and asked us to "please turn down"").
Doch hört man sich "The Offering", den mittlerweile fünften Longplayer der Band aus Wisconsin, an, so muss man neidlos und fasziniert anerkennen, dass der Mix aus Heavy/Power Metal, modernem Prog sowie symphonischen Elementen kompositorisch und songwriterisch mit den Ansprüchen mithalten kann.
Das Konzeptalbum über die tragische Geschichte eines im Mittelalter in die Sklaverei verkauften Jungen wurde zudem von niemand Geringerem als Jacob Hansen perfekt produziert. Der Sound orientiert sich dabei an stabilem, griffigem US Power Metal verknüpft mit packenden Hooks und Leads, symphonischen Elementen und jeder Menge mitreißender Soli, immer wieder Soli.
Schon das Anfangsdoppel aus dem grandiosen `Legend` mit seinem mehrstimmigen Chorus und dem packenden Ohrwurm `Acolyte` dürfte die meisten Genrekollegen vor Neid erblassen lassen. Und es geht munter so hochkarätig weiter: egal, ob das griffige `Feed The Wolves`, die moderne Hymne `Carry The Weight`, die Howard Jones vermutlich auch nicht besser gesungen hätte, der majestätische Midtempo-Kracher `Offering To The Void` oder das synthie-, chor- und solo-lastige `Champion`.
Weitere Anspieltipps: `These Tower Walls` – Vorabsingle und Hymne mit lateinischen Chören und mitreißendem Solo sowie das schnelle `Power Of Evil` mit tollen Leads und langem Master of Puppets-Gedächtnissolo. Die siebenminütige, abschließende Powerballade hätte es (zumindest danach) gar nicht mehr unbedingt gebraucht.
"The Offering" ist definitiv eine starke, unterhaltsame, abwechslungsreiche Scheibe, mit der Fans von Firewind, Blind Guardian, Stratovarius, Serenity, Iced Earth und vielen anderen bestens bedient werden.
Michael Gaspar vergibt 8,5 von 10 Punkten