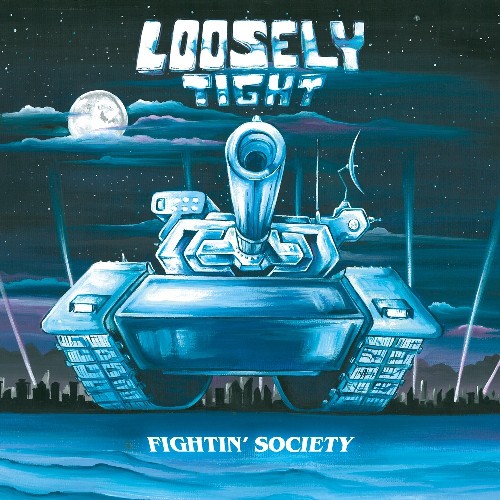 LOOSELY TIGHT
Titel: FIGHTIN' SOCIETY REISSUE
Label: NO REMORSE RECORDS
Spieldauer: 44:28 Minuten
Kürzlich habe ich mich im Rahmen der Dan Jefferies- und Stormbringer-Reviews kurz über Sinn und Unsinn von Reissues ausgelassen. Im Falle von LOOSELY TIGHT möchte man laut sagen: jau, hier ist ein echtes Perlchen neu geschliffen worden. Das 1981 erschienene "Fightin' Society" ist ein Kleinod und erstrahlt nunmehr für alle Freunde metallisch angerauten Classic Rocks mit massenkompatiblen Tendenzen in neuem Lichte.
Die Grundlage des Bandsounds ist häufig UFO, Thin Lizzy und Ted Nugent (der räudige Einstieg in "(Let Me Go) Crazy") zitierender, dabei stets melodiöser 70ies-Hardrock. LOOSELY TIGHT hatten sich jedoch schon bei AC/DC (Riffing), Motörhead (Text von "Renegade" bzw. das rollende "Through Thick N' Thin") oder Black Sabbath (Eingangsmotiv von "From Another Place") umgehört und spürten offenbar, dass der Frosch genau hier die Locken hatte. Unter der brachialen Fassade verbarg sich dabei ein potenziell breitenwirksames Album, welches im Rahmen der explodierenden NWOBHM wohl bloß auf der anderen Seite des Atlantik hätte erscheinen müssen: Parallelen zu Tygers Of Pan Tang oder Praying Mantis sind hier nicht von der Hand zu weisen.
Arizona, das hat auch die jüngste US-Wahl gezeigt, ist jedoch nicht eben der Nabel der Welt. Dementsprechend musste ein Album, das mehrere tausend Kilometer entfernt von einer pulsierenden Jugendbewegung immerhin denselben Furor entfacht, offenbar zwangsläufig untergehen. Auch LOOSELY TIGHT hatten krachende Riffs ("Bad Bizzness"), melodische Gesangslinien, schöne Hooks und ausgeklügelte Harmonien – dazu gibt es Schmankerl wie die sanfte Überführung einer Hendrix-inspirierten Gesangslinie in einen AOR-Song ("Off In the Distance" – leichte Triumph-Vibes), die komplette und überraschender Weise geglückte Weichspüler-Vollbedienung "These Walls Between" oder straight groovendes Bangerfutter der Sorte "Loud n' Restless".
Wer mit den in diesem Review genannten Referenzen etwas anfangen kann, sollte unbedingt eines der je 500 auf CD oder LP erscheinenden Exemplare dieses Reissues abgreifen. Das Artwork wurde von No Remorse behutsam überarbeitet, der Sound pumpt amtlich, es gibt alle Texte, mit "Rough N' Tough" einen (zugegeben verzichtbaren) Bonustrack und vor allem, wie gesagt, richtig feine Mucke!
Patrick Müller vergibt 8 von 10 Punkten