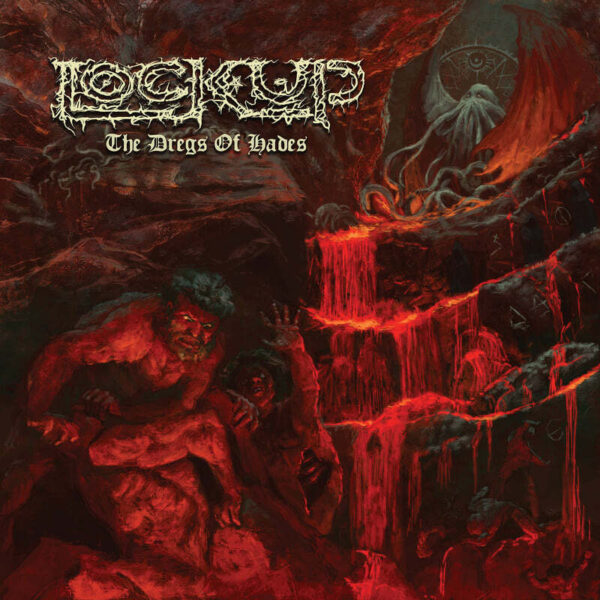 LOCK UP
Titel: THE DREGS OF HADES
Label: LISTENABLE RECORDS
Spieldauer: 38:49 Minuten
Da sind sie wieder! LOCK UP, das schon fast als Death/Grind Supergroup zu bezeichnende Projekt. Shane Embury (Bass, Napalm Death) hat sich nach dem Weggang von Nick Barker an der Rhythmusfront Verstärkung von Adam Jarvis (u.a. Misery Index) geholt. Nicht die schlechteste Idee. Tomas "Tompa" Lindberg am heiseren Gesang ergänzt den seit der letzten Scheibe mitwirkenden Kevin Sharp (Brutal Truth).
Das Debüt der Truppe "Pleasure Pave Severs" (1999) war seinerzeit Dauergast in meinem CD-Schacht. Über all die Jahre hat dieses Projekt doch einige Bestezungswechsel hinter sich gebracht und auch die Qualität der Veröffentlichungen schwankte, auch wenn hier nie ein schlechtes oder überflüssiges Album dabei raus kam.
"The Dregs of Hades" verpasst es nicht die Vergangenheit ordentlich abzuholen, aber dabei auch entsprechend modern zu bleiben. Tompa keift weiterhin heiser in sein Mikro und ist gerade heuer recht präsent mit seiner Stammband At The Gates, The Lurking Fear und eben hier mit LOCK UP. Somit sind mit dem Bestand durch Kevin Sharp Vergangenheit und Gegenwart auch beim Gesang zusammengewachsen. Adam Jarvis ist am Schlagwerk natürlich ein Meister seines Fachs und glänzt mit akzentuiertem und präzisem Spiel an den Kesseln. Manche Songstrukturen bringen mörderische Breaks und sägende Gitarren von Anton Reisenegger (Criminal) zum Vorschein.
Somit schaffen es LOCK UP genügend Abwechslung und Dynamik in ihr Geklöppel einzubringen. Der Blick bleibt klar auf der Straße und  LOCK UP vermeiden Experimente oder nervende Langeweile. Ergo verbleibt mit "The Dregs of Hades" eine gutklassige Grind/Death Scheibe eines All-Star-Projekts, die Laune macht und einem ordentlich den Frack verbügelt.
Ingo Holzhäuser vergibt 8 von 10 Punkten