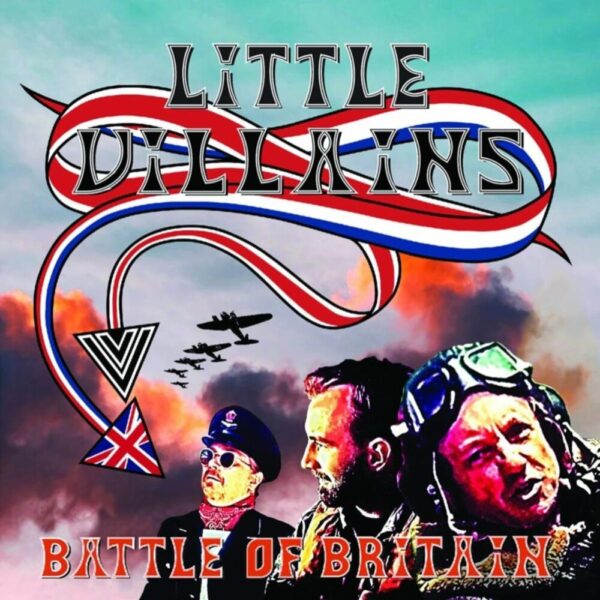 LITTLE VILLAINS
Titel: BATTLE OF BRITAIN
Spieldauer: 35:00 Minuten
VÖ: 15. September 2022
Schlacht um Britannien auch noch 2022?
Die LITTLE VILLAINS, einst mit Ex-Motörheads Philthy Animal Taylor an den Drums gestartete Band, legen ihr nunmehr viertes Album "Battle of Britain". Wenn man das Plattencover um die Luftschlacht und einzelne Titel der Scheibe betrachtet, könnte man denken, dass es sich um ein Konzeptalbum oder eine ernsthafte Beschäftigung mit den Weltkriegsgeschehnissen und der eingesetzten Flugzeuge handelt. Das ist leider weit gefehlt. Die Platte ist kein "Landser"-Ersatz, auch wenn Songtitel, wie 'Messerschmitt´, 'Butcher Bird' und 'Spitfire´ darauf schließen lassen, scheint die Benennung des Luftkampfes jedoch mehr ein Versuch zu sein, Aufmerksamkeit zu erlangen. Die letzte Platte aus dem Jahr 2020 hieß immerhin "ACHTUNG MINEN!"
Klar eine Band, die Philthy Animal als Gründungsmitglied hatte, der 1979 aus dem Heinkelbomber He111 auf der Bomber Platte herauslugte und sich später Lemmys Freund und Ex-Hawkwinds Bassist Alan Davey für eine posthume Phil Taylor Tribute Platte bediente, lebt von der Aufmerksamkeit, die man mit Themen erweckt, die durch Motörhead und dem Kosmos um die Band herum besetzt waren.
Ob man die vorgelegte Platte als Kunstwerk für sich stehen lassen kann, liegt im Auge des Betrachters. Nachdem das Thema Luftschlacht um Großbritannien bei den 10 Songs nicht durchgehalten wird, fragt man sich, was die Platte einem sagen soll. Vielleicht so viel: Es macht den 3 Musikern offenbar viel Spaß ihr Projekt weiterzubetreiben, ab und zu in UK auf Tour zu gehen und die Bühnen zu rocken.
Wer einfachen Motörheadpunk, ohne die Genialität von Motörhead mag und sich an den NWOBH Anspielungen ergötzen kann, der kann bei Bandcamp, Spotify usw. die LITTLE VILLAINS besuchen oder gleich die Platte kaufen und spaßige Songs, wie 'Spitfire' (inklusive deutscher Lyrics) und 'Messerschmitt´ (109) vom 2022 Werk "Battle of Britain" anhören.
Oliver Kämpf vergibt 7,5 von 10 Punkten