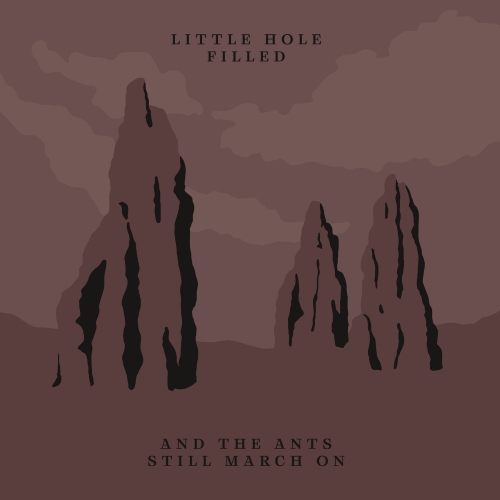 LITTLE HOLE FILLED
Titel: AND THE ANTS STILL MARCH ON
Spieldauer: 40:09 Minuten
LITTLE HOLE FILLED, mh, so beginnen normalerweise die Videoclipbeschreibungen auf den einschlägigen Websiten für Freunde audiovisueller Darstellungen von körperlicher Interaktion. Was haben wir also von dem Debut-Album "And The Ants Still March On" von LITTLE HOLE FILLED zu erwarten? Porno-Metal? Nicht ganz, also eigentlich nur, wenn man es vorzieht, seeehr langsam zu kopulieren.
Doom-Metal ist angesagt bei den Österreichern, die laut Beipackzettel 25 Jahre Anlauf für ihre erste Plattenveröffentlichung genommen haben. Aber weniger im klassischen Black Sabbath-Sinn, vielmehr pendeln LITTLE HOLE FILLED zwischen episch-melodischem und stonermäßigem Doom hin und her. So steigt der Opener und Titeltrack stilecht mit einer Kyuss-Gedächtnis-Melodie ein und ist somit die rockigste Nummer auf dem Album. Die weiteren Songs pegeln im Wechsel zwischen slow und very slow die Bandbreite zwischen melodischen Pallbearer, psychodelischer Repetivität fast bis zu vereinzelten Drone-Elementen und trägem Stonersound aus. Das lässt den Zuhörer sehr schön im Gesamtwerk versinken. Leider kann der Gesang, der meistens etwas zu nett daherkommt, nicht ganz mit der musikalischen Darbietung mithalten. Manchmal läßt Sänger/Gitarrist Phillipp Diesenreiter erkennen, dass er auch mit knurrigem Ausdruck und einem gewissen, dem Doom gut zu Gesicht stehenden Pathos vortragen kann, meist singt er aber zu gleichförmig sauber, ausdruckslos nett eben. Ebenfalls ziemlich unpassend, den positiven Gesamteindruck störend, kommt der Abschlusssong 'Weiße Wänd' daher. Eher dem 90er-Crossover zuzuordnen, hört es sich so an, als habe sich der Song auf das falsche Album verlaufen. Naja, man kann "And The Ants Still March On", daß zudem über einen verdammt schweren Sound verfügt, ja auch einfach nach dem vorletzten Song 'Sprout' ausmachen.
LITTLE HOLE FILLED haben mit "And The Ants Still March On" ein innerhalb der Genregrenzen sehr abwechslungsreiches Doom-Metal-Album abgeliefert, das ich jedem Freund des Genres bedenkenlos ans Herz legen kann. Ein gewisses Steigerungspotential ist dennoch vorhanden. Und was, zum Teufel, bedeutet dieser Bandname?
Dirk Eckhard vergibt 7,5 von 10 Punkten