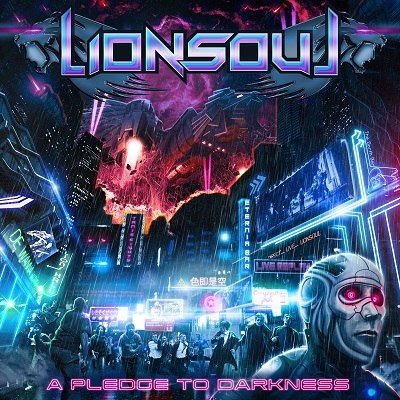 LIONSOUL
Titel: A PLEDGE TO DARKNESS
Spieldauer: 47:57 Minuten
VÖ: 29. April 2022
Fast eine Dekade nach ihrem Debüt "Omega" (2013) und fünf Jahre nach ihrem Zweitling "Welcome Storm" (2017) sind die italienischen Power Metaller LIONSOUL mit ihrem dritten Langdreher "A Pledge To Darkness" wieder "back in business".
Dabei beweist der Fünfer eine enorme Variabilität und stilistische Vielfalt in seinem heterogenen Soundmix, dessen Basis nach wie vor im Power/Heavy Metal liegt. Die Einflüsse reichen dabei von Speed-, Thrash- und Prog Metal bin hin zum Melodic Death.
Die Songs decken eine Palette vom klassischen Power Metal Song über 80er Synth-Wave und Midtempohymnen bis zur Ballade ab. Zudem sorgen elektronische Spielereien, Soundeffekte und gesprochene Passagen immer wieder für den gewissen Cyberpunktouch und eine allgegenwärtige Sci-Fi-Atmosphäre.
Doch bekanntlich ist manchmal weniger mehr und so kann eine derartige Vielfalt auch zum Problem werden. Beispielsweise wirkt das an sich kurzweilige `No Beginning (Nor An End)´ überladen und unnötig kompliziert, die Effekte und Synthies übertrieben und aufdringlich. Andere wie das unspektakuläre `Skin 2´ und die schrullige, nichtssagende "Westernballade" `Red Flame´ sind wenig reizvoll und letztlich verzichtbar.
Aber es gibt auf dieser Scheibe eben auch das Gegenteil, nämlich echte Glanzstücke zeitgemäßer Power Metal Kunst. So geht der (abgesehen vom spacigen Intro `Continuum´) Quasi-Opener `Exile To Arise´ mit seinen Blastbeats und seinem Hammerchorus direkt in Beine und Nacken.
Und auch die beiden Vorabauskopplungen `Amber Of Illusion´, ein simpel-geradliniger Rocker mit kurzem, packenden Solo sowie das grandiose `Wailing In Red´, welches mit Growls (die Gast Claudio Facheris beigesteuert hat) und gutem Refrain überzeugt, können sich wahrlich hören lassen.
Ebenso glänzen das flotte, majestätische und leicht angeproggte `Soldier Through Time´, der mitreißende Titeltrack und die dunkle 80er Hymne `The Stranger´.
All das macht "A Pledge To Darkness" zu einer mehr als soliden, modernen und facettenreichen, aber nicht herausragenden Power Metal Scheibe.
Michael Gaspar vergibt 7 von 10 Punkten