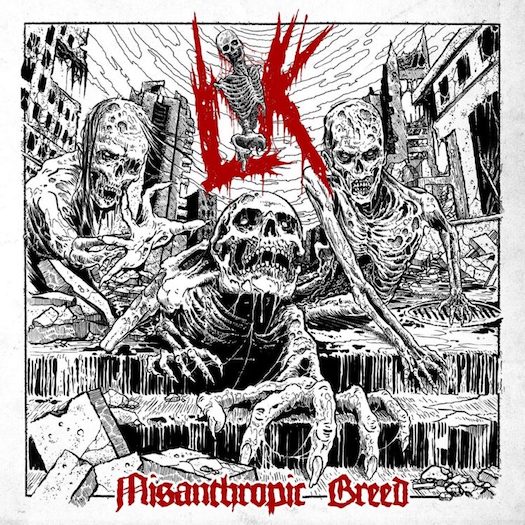 LIK
Titel: MISANTHROPIC BREED
Spieldauer: 39:33 Minuten
Stockholm muss voller Death Metal Jungs sein, die sich ihre eigene Band aus den Rippen leiern, um die Welt weiterhin mit dem landestypschen Todesblei zu versorgen. Wer jetzt bereits abwinkt, wird vermutlich auch LIK nicht unbedingt zu den kommenden Faves zählen, denn sie machen auf ihrem "Misanthropic Breed" genau das, was jeder erwartet.
Entombed , Dismember und etwas Boodbath standen Pate für die Sounds und Strukturen. Ob mit oder ohne Absicht, ab und an mal erinnern Passagen (natürlich) an "Left Hand Path" aber die elf Songs bewegen sich auf einem fast durchweg hohem Niveau und so klingt old-school Schweden Death nunmal.
Die musikalische Richtung ist damit eindeutig definiert. Klar, der ein oder andere Song fällt auch mal nach unten ab, wie das langsame "Female Fatal To The Flesh", dass ohne Durchschlagskraft bleibt oder auch der Titeltrack, der eigentlich nur ein verlängerte Einleitung für das schön thrashig durchwemmsende "Flesh Franzy" darstellt.  'Morbid Fascination' geht da eher wieder in Richtung old-school und trumpft mit seiner "Reiter-Rhythmik"  auf… good old death Metal fun, der schon beinahe an puren Heavy Metal erinnert, wäre da nicht der typisch sägende Svenska-Sound und die viel zu heftigen Vocals. 'Wolves' haut einfach nur auf die Fresse… ein wirklich fettes Death Metal Brett der Marke Elchtod. Am Ende gibt es beim abschließenden 'Becoming' noch ein ungewöhnlich melodiöses Ende, nachdem auch hier der Elchhammer ordentlich gekreist hat. Schöne Nummer.
Nur könnte ich auch sagen …"und so weiter" … denn irgendwelche ernsthaften Überraschungen bleiben aus, auch wenn die Band etwas von einem Iron Maiden Feeling erzählt. Also wer mit der Musikrichtung etwas anfangen kann und die Plattensammlung noch nicht übervoll hat, wird von LIK zu einhundert Prozent bedient und das gar nicht schlecht.
Sven Bernhardt vergibt 7 von 10 Punkten