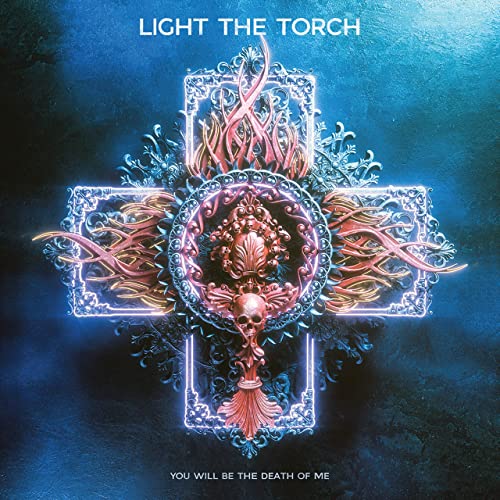 LIGHT THE TORCH
Titel: YOU WILL BE THE DEATH OF ME
Spieldauer: 42:51 Minuten
Eigentlich ist "You Will Be The Death Of Me" erst das zweite Studioalbum von LIGHT THE TORCH. Doch um Newcomer handelt es sich hier wahrlich nicht, denn zum einen sind alle Beteiligten keine Unbekannten und zum anderen sind vor der (namens-)rechtlich bedingten Umbenennung bereits zwei Scheiben unter dem Banner Devil You Know erschienen. Dabei bildet Ex-Killswitch Engage-Goldkelchen Howard Jones gemeinsam mit Francesco Artusato (Gitarre) und Ryan Wombacher das Gerippe der Gruppe. Die Drums wurden von keinem Geringeren als Alex Rudinger (Whitechapel) übernommen.
Wie gewohnt gibt es eingängigen, melodischen Metalcore aufs Ohr, der stark auf den fantastischen Frontmann fokussiert und zugeschnitten ist. Spielfreude und Energie der neuen Stücke sind schlichtweg beeindruckend. Der Anteil von gutturalen/geschrienen Vocals ist geringer als gedacht und es gibt sogar mal ein Solo und so einige Elektro-Anflüge zu hören. Jones scheint endlich "angekommen" zu sein und bezeichnet glaubhaft seine Kollegen als "Freunde" und die Band als "Familie".
Dabei reicht die Palette von catchy Songs wie 'More Than Dreaming' und 'I Hate Myself', die (fast) komplett ohne Screams auskommen, bis zu echten Metcalcore-Raketen wie 'Living With A Ghost' oder 'Denying The Sin'. Bei 'Let Me Fall Apart' gibt es gar einen Mitsing-Part, 'Wilting In The Light' besticht durch eine wunderschöne Melodie und einen tollen Chorus und auch das hymnische 'Come Back To The Quicksand' ist ein echter Modern Metal-Hit.
Abgerundet wird das Ganze schließlich durch das grandiose Cover von Sanada Maitreyas' (aka Terence Trent D'Arby) Hit 'Sign Your Name' (1987), das unerwartet gut zum melodischen, harten Gesamtsound und zur emotionalen Stimme des Frontmanns passt und das i-Tüpfelchen auf einem starken Zweitling darstellt.
Michael Gaspar vergibt 8 von 10 Punkten