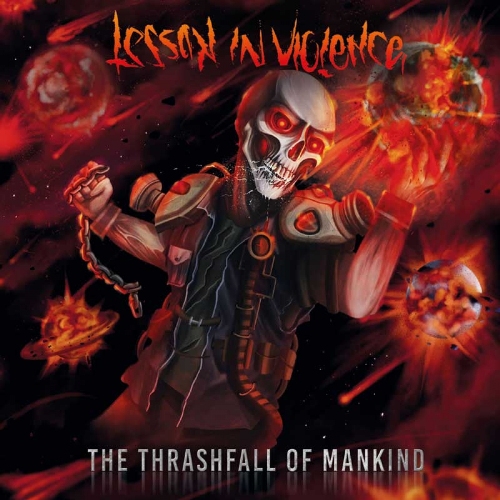 LESSON IN VIOLENCE
Titel: THE THRASHFALL OF MANKIND
Spieldauer: ca 36:00 Minuten
VÖ: 18. Februar 2022
LESSON IN VIOLENCE ist eine recht junge Band aus Schweinfurt, welche sich erst im Jahre 2019 gegründet hat und nun, drei Jahre später ihr Debütalbum via Iron Shield vorlegt.
Und wer sich auch nur ein klein wenig für Metal interessiert, der sollte bei dem Bandnamen natürlich wissen, von wem die Jungs beeinflusst sind……nämlich….genau…. Exodus.
Die Bay Area Veteranen beeinflussen ganz klar den Sound der Schweinfurter, wobei LESSON IN VIOLENCE diesen aber auch nicht 100%'ig kopieren.
Tracks wie das abwechslungsreiche 'C.H.A.O.S.', der Speedster 'Thrash Metal Mankind' mit seinem prägnanten melodischen Hauptriff, der Mid Tempo Stampfer 'Liar', das schnelle 'Riggid And Stubborn' und das nach einem hymnischen Einstieg im Mid Tempo ballernde 'Time To Kill' sind klasse Thrasher, die sich hinter anderen jungen Bands, welche ihren Heroes huldigen, nicht verstecken müssen.
Die gebrüllten Vocals und die zahlreich eigesetzten Gang Shouts verstärken zudem die Aggressivität der Mucke sehr gut und sollten dafür sorgen, dass sich Thrasher mit der Scheibe wohl fühlen.
Ludwig Lücker vergibt 7,5 von 10 Punkten