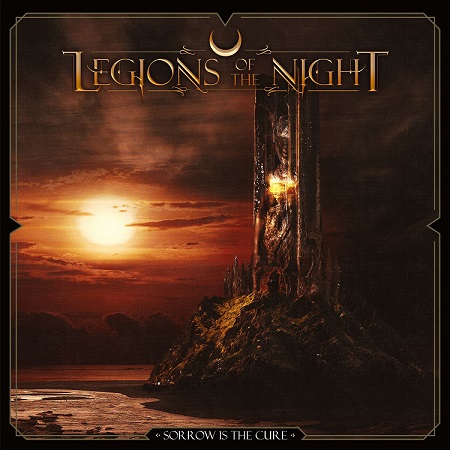 LEGIONS OF THE NIGHT
Titel: SORROW IS THE CURE
Spieldauer: 56:29 Minuten
Mitten in der Corona-Pandemie formierte Jens Faber (Dawn of Destiny, Malefistum, ExoS) im vergangenen Jahr gemeinsam mit DoD-Drummer Philipp Bock und Ausnahmesänger Henning Basse (Metalium, ex- Firewind, Mayan) LEGIONS OF THE NIGHT. Inspiration und Haupteinfluss für den souveränen US-Power-Metal-Stil des Trios ist das Oeuvre der Genre-Veteranen Savatage.
Daran angelehnt schaffen sie mit packenden Riffs, eleganten Melodien und bestechendem Songwriting einen eigenen Sound und bestechen durch Basse's variablen, gefühlvollen Gesang. Dabei sind die zehn an den prominenten Vorbildern orientierten, eigenen Tracks im gemäßigten Tempo gehalten und die Kompositionen breit und klingen zumeist majestätisch, beinahe feierlich.
Das Tempo wird nur ab und an mal angezogen und die Grundstimmung der Songs ist emotional und beinahe melancholisch. Das textliche Konzept behandelt und beschreibt verschiedene Aspekte, Schicksale und Tragödien rund um die Berliner Mauer und ihre wechselhafte Geschichte.
Der mit Abstand beste und eingängigste Song ist das fantastische und mit einem Über-Chorus ausgestattete 'Walls Of Sorrow'. Außerdem beeindrucken insbesondere die berührende Piano-Ballade 'Someday Somewhere' und das atmosphärisch unfassbar dichte 'Shoot And Save'. Als angemessene Huldigung der und Tribut an die Idole dient schließlich das gelungene Cover 'Sirens' vom gleichnamigen Album (2009).
Insgesamt ein richtig guter Silberling und ein ausgezeichnetes Debüt mit viel Melodie, Drive, Gefühl und einigen Höhepunkten dem etwas mehr Eigenständigkeit und Abwechslung aber auch nicht geschadet hätte.
Michael Gaspar vergibt 7,5 von 10 Punkten